June 27, 2019
Justin Klotz has joined Inglis as the New Assistant Nursing Home Administrator of Inglis House.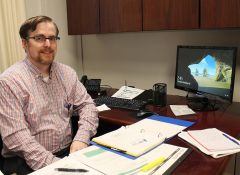 "We are fortunate to have Justin join our team," said Patti McCloskey, Executive Director & Administrator of Inglis House. "He brings a wealth of knowledge and experience that will be beneficial in enhancing our person-centered approach. His experience will assist us in setting priorities and strengthening operations to work toward our strategic goals."
Prior to coming to Inglis, Justin worked at Dresher Hill Health and Rehabilitation Center where he improved the facility's Medicare rating. He has more than 13 years of experience working with people with disabilities in the Philadelphia area and is excited about the approach taken at Inglis.
"I am very drawn to Inglis because of its mission," he said. "A lot of nursing care facilities talk about person-centered care, but few really manage to do it. Inglis takes it the next level."
A self-proclaimed Air Force brat, Justin says many of his family members are in the military, but he was drawn to a different type of service. He lists his children as being among his greatest accomplishments and enjoys finding unique ways to help the community with which he works.
"I have an open-door policy and I like to make sure everyone knows I am approachable and open to listening," he said. "I love working with residents and make it a point to walk around and talk with people every day. It's always the best part of my day."
His immediate goal is to help Patti, with whom he previously worked, move some of her strategic initiatives forward and to continue to help Inglis advance its person-centered vision. He said he is already impressed with Inglis and its staff.
"I have never been to a place where the staff is so welcoming," he said. "Everyone seems happy to be here and many have been here 15 or 20 years. That's not something you see often in a long-term care facility. I think the residents at Inglis House inspire staff. There is a younger community here and when you see what they are capable of and how they push themselves, it lights a fire under everyone."