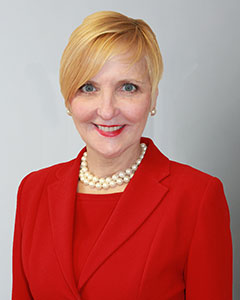 Patti McCloskey, MSN, RN, NHA
Executive Director/Administrator, Inglis House
Patti leads our clinical teams to improve clinical outcomes and resident care. She leads Inglis' performance improvement, infection control and regulatory compliance activities, and manage services including Electronic Medical Records, Therapies, Wound Care and Nursing Education. Patti also collaborates with staff to support our safety, risk management and compliance initiatives.
Prior to joining Inglis, Patti was a health care consultant with Strategic Solutions Healthcare Consulting in Barrington, NJ, and maintains expertise in administrative policies and procedures, competencies, QAPI audit tools, education programs and clinical auditing.
She is a former Executive Director of Health Care Quality Assurance and Compliance at Lutheran Social Ministries in Burlington, NJ, where she also served as Executive Director of Clinical Operations. Prior to that, Patti was director of Clinical Standards at NewCourtland in Philadelphia. She has also held Director of Nursing roles at Penn Center for Rehabilitation and Care and Logan Square East, both in Philadelphia.
Patti holds a MSN from the University of Pennsylvania, and a BSN from Temple University. She is also a licensed nursing home administrator.