Tribute Pages
In Honor of
Gina Minter
"Inglis House gives me the opportunity to enrich my life to the fullest."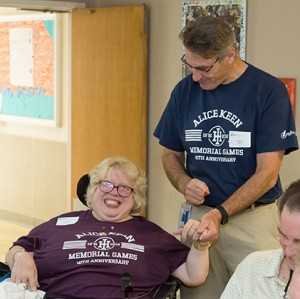 Gina, who lives with cerebral palsy, was born at a time when little was known about the disorder. Many doctors mistakenly believed that these children were not only physically disabled but also intellectually impaired.
"Seventeen doctors, with the exception of one, told my parents to put me away and forget about me," says Gina. "Thankfully, my mom and dad didn't listen to them."
Instead, Gina went on to enjoy an active and fulfilling life. She attended the Widener School, discovered a love of learning and received specialized therapy. "I was never at home," she recalls. "I was always out with friends and keeping busy."
Gina came to live at Inglis in 1973 at the age of 25. "It was a step I knew was good for me because Inglis House gives me the opportunity to enrich my life 'to the fullest,'" she says.
Gina has worked in our mailroom and been a volunteer chaplain. She is an enthusiastic Inglis ambassador, helping visitors to better understand the needs of people living with disabilities. "I am so glad I came here," she says.
Thank you, Gina, for being such a wonderful and engaged member of the Inglis Community.