Tribute Pages
In Honor of
Inglis Volunteers
Celebrating those who give of themselves to bring joy to Inglis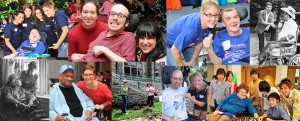 Inglis would not exist without volunteers, who are the cornerstone of our proud history.
In 1877, 140 years ago, a group of women—determined and unpaid—raised funds and labored to establish Inglis, one of the first facilities in Philadelphia offering residential medical care for the disabled.
That civic concern and charitable spirit continue to thrive at Inglis today. Our volunteers range in age from 16 to 93. Last year, they contributed an amazing 21,267 hours of service to our residents.
How do volunteers make our residents' lives better? Our volunteers help with many of the programs at Inglis that are not covered by reimbursements for resident care, such as:
They enhance quality of life by accompanying residents ontrips and outings, and by delivering enjoyable recreational programs like weaving, ceramics and Zumba.
They tutor, mentor, teach and support our residents.
Volunteers imbue Inglis with a festive air by hosting parties and regular "tea and cookies" get-togethers. They enliven our weekly Game Night, help to run a Men's Group and many more social activities.
Volunteers also enable our residents to explore their spirituality with their involvement in Bible discussion and rosary groups, as well as Muslim observances and Jewish holiday celebrations.
This year, our volunteers are comprised of 298 unaffiliated individuals and 1,060 people from 28 organizations. Each one contributes something unique to resident life. And many tell us that their experiences here have profoundly changed their lives.
We are extremely grateful to them all
Please join us in honoring their service and commitment to the Inglis Community – make a donation to the Ability Fund which provides the resources for numerous programs including those mentioned above.