Inglis Assistive Tech Solutions
IATS Training Topics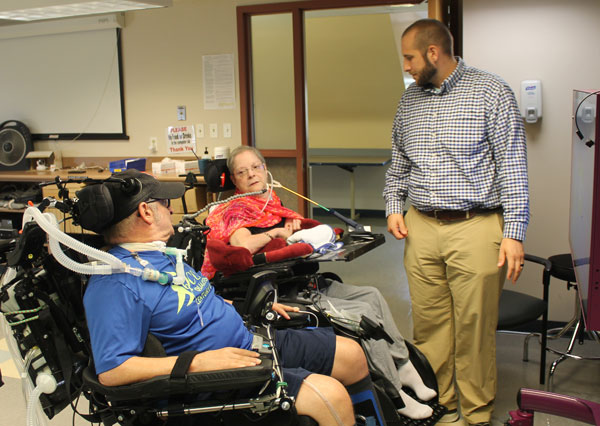 Inglis Assistive Tech Solutions can support participants in a variety of tasks, goals, and outcomes.
Some possible training topics include:
Software Application Use – Helping you effectively navigate a specific software program such as word processing, email, spreadsheets or assistive technology applications like voice recognition software
Hardware Use – Do you want to use a desktop computer, a laptop, or a mobile device such as a smartphone or tablet? Do you know the difference? Don't worry if you don't, we can help!
Internet Navigation – How comfortable are you navigating the internet? Using the internet to search for things or find news – perhaps you want to look up a recipe or make an online purchase. IATS will help you to find your way around the online world.
Independent Life Skills Development (Online Shopping, Social Media, Video Conferencing, Telehealth, etc.) – Do you want to have a video chat with your family, friends, or your health providers? Or would you like to watch a concert streaming online? How about buying groceries or a gift online? Or do you just want to use Social Media platforms to engage with friends and family all over the world? These are all things IATS can help you achieve in a personalized way
Environment/Hardware set up – Setting up your technology and components to best achieve the goals you set for yourself.
Gaming – Gamers with disabilities often encounter many barriers and we can help research solutions and products that can be adapted to the allow gaming in a comfortable, safe, and enjoyable way.
Assistive Technology Device Acquisition – There is a wide variety of assistive technology available to support you in almost any situation. IATS staff are well-versed in the available tech and will work with you to identify the right teach to achieve the tasks and goals you want to accomplish. From an adapted keyboard or mouse, to magnification monitors, to more advanced systems like eye tracking or voice recognition software, IATS can help you make sense of it all and acquire the right tools.
Smart Home Implementation – IATS can help you map out the key tasks to be automate in your home environment, select the right technology, and train you in their use
Whataever your goals may be, IATS can help you achieve them.
For more information, or to request an appointment with IATS, please contact us at: 215-581-0767 or at IATS@inglis.org