Community Support Services
Day Program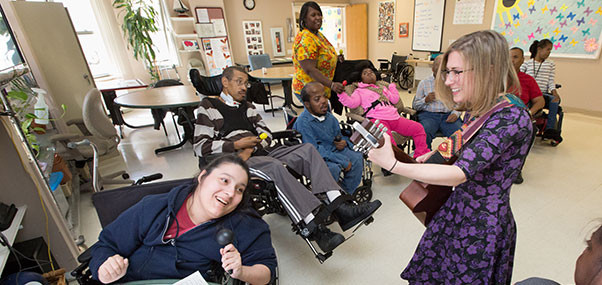 The Inglis Day Program is unique because it serves a diverse group of adults.
We serve adults (18 and older) with physical disabilities who live independently in the community. Staying active is important, and the Inglis Day Program offers stimulating programs that promote the physical, emotional and spiritual wellness of participants. Group and individual activities encourage independence and personal growth.
While loved ones attend the program, family members enjoy peace of mind and caregivers get an important respite during the day.
Maximizing each person's potential, we offer a variety of recreational programs, including:
Therapeutic movement and exercise sessions
Cooking
Creative arts
Nutrition assessment
Medication management
Diabetes instrumentation
Community trips and outings
Horticulture and fresh flower arranging
Spiritual awareness
Music appreciation
Health monitoring
Computers & Adapted Technology Training
Recreational programs help restore, strengthen and maintain wellbeing. Program benefits include cognitive and physical stimulation, socialization, community involvement, the opportunity to gain new interests and rekindle past interests, and finding new methods of self-expression.
Coming Soon - Inglis Connections - a day program with enhanced services.
We will open the new Inglis Innovation Center in December 2019, a new state-of-the-art, accessible home for all of our community-based programming, including our Day Program. When the Day Program moves to the Innovation Center, it will be renamed, Inglis Connections - and continue its great work but with even more services and capacity. The new program will have more space, extended hours, bathing facilities, as well as a full-time RN. Stay tuned for more information.
Professional Services
The Inglis Adult Day Program knowledgeable professionals are familiar with individuals' unique abilities and provide dignified and respected care. They help participants gain access to the community services they need and keep the consumer's other social service agencies informed. Nursing services implement the health practices recommended by physicians and/or therapists, monitor changes in health, provide physical assessments and general health screenings. They keep the consumer's primary care provider informed, as needed. Caregivers provide individual attention to meet the care needs of participants (such as activities of daily living - feeding, toileting, etc.).
Admissions
To apply for the Inglis Day Program, please follow this link to download the application forms. We look forward to hearing from you.
Transportation
Most participants travel to and from the Inglis Adult Day Program using SEPTA CCT Connect, although other transportation providers may be available. Others rely on caregivers for transportation.
Payment
The Inglis Adult Day Program accepts payment from both private and public sources. Participants may be eligible for funding from their Managed Care Organization (MCO) who manages their Home and Community Based Services. The Day Program staff can assist participants, family members or other caregivers in finding funding sources and resources for enrollment.
To learn more about the Inglis Day Program, please call our customer service center toll-free at 1.866.2.INGLIS (1.866.246.4547), or email us at community@inglis.org