September 25, 2015
Inglis Board Member Performed with American DanceWheels for the Pope
Disability in the News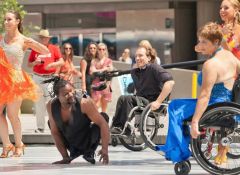 The dance group, American DanceWheels, performed Saturday, September 26th on the Parkway in Philadlephia for the World Meeting of Families and for the Pope.
Photos to and updated information coming soon.
Inglis board member, Alysse Einbender (in blue gown in photo), dances with American DanceWheels, and recently danced with the group at the 2015 Pan American Games in Canada (as seen in the photo).
The not-for-profit group teaches wheelchair Ballroom and Latin Dancing. Wheelchair dancing integrates people with and without physical disabilities and can be enjoyed by people of all ages and ability levels. American DanceWheels created the first American style wheelchair dance syllabus, Wheel One™. The organization promotes wheelchair dancing through educational seminars and performances in dance studios, schools, and rehabilitation facilities across the country.
Congratulations to Alysee and all the dancers and American DanceWheels family!
www.americandancewheels.org (link opens in new window)
Article about American DanceWheels' participation in the World Meeting of Famililes form the website - www.catholicphilly.com. (link opens in new window)