Inglis House
Social Enrichment Programs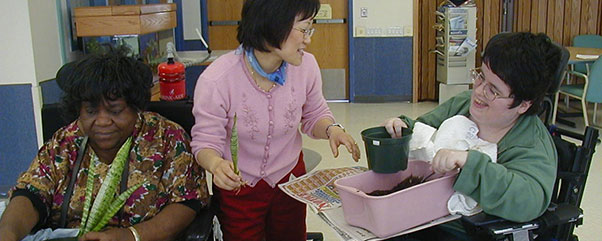 Therapeutic Recreation & Social Enrichment (TRSE) provide programs — recreational, educational, computer services, pastoral care, music therapy and so many more — that enhance residents' independence to the full extent of their functional abilities and support them through their life transitions.
The program supports residents in leisure via a wide variety of therapeutic and experiential recreation, while focusing on psycho-social well being. We use therapeutic recreation to enhance or maintain current physical, social and cognitive abilities of our residents. By providing opportunities in a variety of experiential domains, such as physical, creative, social, cognitive, service, community, spiritual, educational and degree-focused enrichment, Inglis House offers its residents numerous outlets to explore, learn, grow and have full lives — all while enhancing their skills, capabilities and independence.
Seventy-five percent of residents participate in five hours or more of TRSE programming each week. The specially trained TRSE staff assesses new residents upon admission for their interests, needs and abilities; thereafter, residents meet with staff quarterly to reevaluate and, if necessary, revise their goals. TRSE offers a robust schedule of activities, including spiritual programming for the 15 religious faiths observed at Inglis House as well as seasonal social events, and an average of 10 programs and workshops every day.
Programs are offered in a variety of settings: individual, small group, large group, in-house and in the community
Programs are provided by Recreation Therapists (CTRS), Music Therapist (MT-BC), adult educators, recreation staff, pastors, volunteers and others professionals
Provide opportunities for individuals to be recognized for their skills / talents: choir, participation in the juried art shows, films / documentaries
Special events such as the annual Keen Games (our version of the Olympics), dances, etc.
Special cultural and entertainment events, Astral Artists concerts, Pages to Pirouettes, The Philadelphia Orchestra, The Philadelphia Museum of Art, etc.