About Us
Press Kit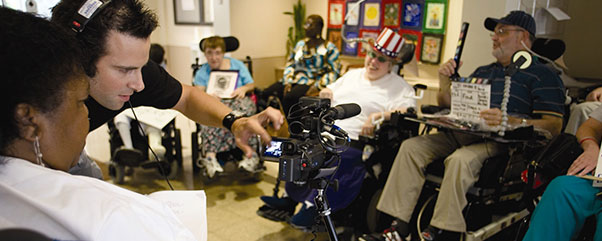 Welcome to our online press kit. In addition to information about our organization and community, you will also find resources on how to report on people with disabilities using a person-first language style - always putting people first, not their disability.
INGLIS PRESS KIT INFORMATION (all PDFs will open in a new window)
Inglis Community Infographic-PDF
Inglis Background/History-PDF
Inglis Key Initiatives - Adapted Technology Program-PDF
Inglis Key Initiatives - Community-Based Programs-PDF
Inglis Key Initiatives - Housing-PDF
What Can Inglis Offer Members of the Press?
Inglis serves nearly 1,000 people with disabilities each day, most of whom have at least one physical disability requiring them to use a wheelchair. They receive care through one or more of our services that include long-term care and community-based programs for clients who live independently. All Inglis programs are designed so that people with physical disabilities are able to maximize their independence and enjoy a better quality of life.
Inglis clients are a diverse group of individuals and most pursue their life goals using a wheelchair. Many clients have used Inglis programs to receive a bachelor's degree, get a job, pursue hobbies and move from long-term care to independent living. Their stories are interesting because they achieve their goals using alternative means. How does someone who can't use their hands paint an oil painting, use a computer or hold a steady job? What obstacles do they encounter in their daily lives that people without disabilities take for granted? Inglis has the answers to these questions, and can put you in touch with individuals willing to share first-hand accounts of their experiences. Meet a few of the many people in our Inglis Community and learn their stories here.
If you are looking for a human interest story about someone with a disability, or for information about services that are available to them, let Inglis be your "go-to" resource.
For more information or to schedule an interview or video/photo shoot, please contact:
Kristen Rantanen
Interim Director of Marketing Communications
Phone: (215) 808-3783
Email: kristen.rantanen@inglis.org