June 19, 2020
Inglis celebrates Juneteenth by adding it to official holidays.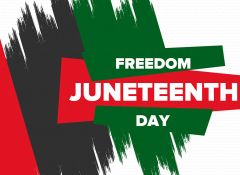 On Friday, June 19th, 2020, Inglis recognized and honored Juneteenth, also called Emancipation Day, or Freedom Day, which celebrates the anniversary of enslaved Africans in Galveston, Texas learning from Union soldiers that they were free, and that the Civil War had ended – two years after Abraham Lincoln signed the Emancipation Proclamation.
It is the oldest regular US celebration of the end of slavery and to many, it is this country's second Independence Day. Governor Tom Wolf designated June 19th as National Freedom Day in Pennsylvania and Mayor Kenny has designated it a City Holiday.
Inglis joins with so many others in celebrating this Juneteenth Emancipation Day and is proud to introduce the day as an additional official staff holiday going forward.