April 22, 2016
Inglis Transitions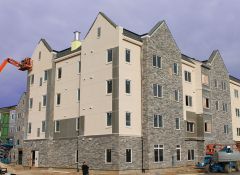 25 Residents from Inglis House to Transition to Independent Living at Inglis Gardens at Belmont
For nearly 140 years, Inglis has been enabling people with disabilities – and those who care for them – to achieve their goals and live life to the fullest. While our mission has remained constant since 1877, how we deliver it has evolved with the needs of the disability population and each era's financial realities.
Today is no different.
Approximately 25 residents of Inglis House who have chosen to live independently in the community, have moved into our new apartments, Inglis Gardens at Belmont. We are delighted to be able to help these residents achieve their dream of a home of their own.
Providing housing for people who choose to live in the community is consistent with today's state and federal policies. Inglis has worked closely with policy makers to find ways to care for more people in integrated community settings while saving money for Pennsylvania and its taxpayers.
Currently Inglis serves more than 1,000 people, twice as many people who live in the community, than who live in Inglis House. We offer a variety of programs including a day program, adapted technology, employment and support services as well as independent living apartments. Inglis is the largest provider of affordable, Accessibility Plus housing in the region.
The moves of our residents to independent living, in addition to planned attrition at Inglis House, will result in a large number of bed vacancies, enabling us to partner with the Commonwealth in reducing the number of nursing home beds to 252. By the end of the summer, we will have transitioned all of the residents of our Center Units to the community and to open rooms in our newly renovated, Person-Centered Care neighborhoods featuring a more homelike environment.
Along with resident moves to Belmont Gardens and within Inglis House, we are taking the difficult step of reducing the number of staff members. This includes direct care staff as well as staff across the entire organization. We have been in communication with our union representatives throughout this process and will continue to partner with them to support our union staff. These transitions are being handled with the utmost sensitivity, with affected staff (both union and non-union) being given access to outplacement and financial resources.
In recent years, Inglis has experienced significant financial challenges. In spite of controlling costs and wisely managing our investments, our operating losses will total nearly $10M this year. This is in part due to the declining reimbursements we receive from Medicaid, representing 95.6% of our revenues in Inglis House. In the past, we have been able to cover this shortfall from endowment earnings, but we must now take other measures to address our long-term financial stability.
With the opening of Inglis Gardens at Belmont, we will adjust the size of Inglis House while renewing our commitment to care for people with disabilities in a variety of settings, offering programs, services and care that are unique to our community. While many changes are occurring at Inglis, one thing will never change: our commitment to deliver quality care and support to those we serve and to those who provide those services.