Programs and Services
Community Computing Program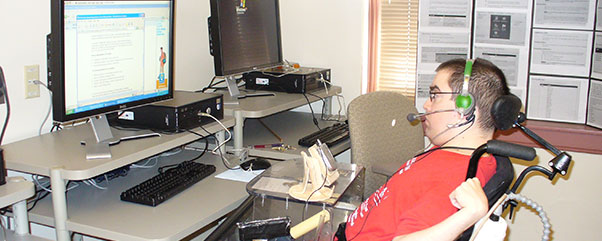 Connecting People with Disabilities to Technology
Now there is a place to learn how to use a computer to access the Internet, shop for your groceries, pay your bills, access medical information and records, research available grants, complete school work, connect with friends and family through social media, learn about smart home technology and adapt your cell phone/tablet to increase usability. These activities, and many more, can help enhance your connection to the world around you.
The Inglis Community Computing Program provides FREE TRAINING at select locations throughout Philadelphia; at Inglis, in a multi-user computer lab with assistive and adaptive technology for people with disabilities. The Community Computing Program can also come to your home or facility to offer 1:1 or group sessions with their mobile AT Kit.
The Community Computing Program is unique because it is based on YOUR goals. Our highly trained Community Computing Educators will work with you to determine what specialized equipment you need to achieve your personal technology goals. Whether you need a simple, low-tech keyboard guard or more advanced navigation equipment, Inglis Community Computing will help you find and trial the right tools and a set-up that will fit your specific needs and abilities.
We provide:
Adapted Technology skills and needs assessments.

Workshop classes on basic computing skills, email access and management, voice activation software, Skype, Smart Home Technology, speech generating devices, eye gaze technology and much more.
Offers one-on-one and group assistance to help you get comfortable with your equipment.
Additionally, Inglis offers highly personalized instruction to assure proficiency. Our staff has more than twenty years of experience working with adaptive technology and are experts in the field.
For those wishing to purchase new equipment, re‑fit their home workspaces, or add to existing technology, Inglis can provide assistance with applying for low-interest loans through the Pennsylvania Assistive Technology Foundation and other funding sources.
For more information about these FREE services, please contact: Jeremy Boothe Community Computing Educator, Jeremy.boothe@inglis.org (215) 581 0767