August 01, 2019
Inglis Methodist Gardens awarded low-income housing tax credits for first-of-its-kind Philadelphia Housing as Health Community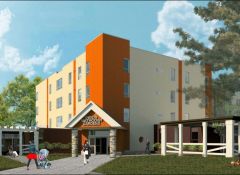 PHILADELPHIA, August 1st, 2019 – Inglis and Methodist Services were awarded low-income housing tax credits from the Pennsylvania Housing Finance Agency (PHFA) at their July 11, 2019 Board Meeting for the new Inglis Methodist Gardens housing community. The tax credits should close in the early part of 2020 and set in motion Inglis Methodist Gardens' groundbreaking by summer. Rounding out the funding for the $16.8 million housing community is a $4 million leadership gift from Aetna Better Health of PA and a $0.7 million investment from the Federal Home Loan Bank of Pittsburgh.
Inglis Methodist Gardens will be a first-of-its-kind community in Philadelphia, bringing together affordable housing providers, healthcare organizations and social service agencies to form the Philadelphia Housing as Health Collaborative. Once completed, Inglis Methodist Gardens will connect formerly homeless families and individuals with disabilities to 47 affordable, integrated and supportive apartments.
Follow this link to learn more about the new community and see the media coverage about our announcement.
Philadelphia, like many cities nationwide, is in a housing crisis, lacking adequate resources to provide accessible, healthy and affordable housing for disabled individuals and homeless families. Inglis Methodist Gardens, to be located on the campus of Methodist Services in West Philadelphia, will be a part of working towards the bigger solution. "I am very pleased to stand with Inglis and Methodist Services to announce this incredible project," Pennsylvania State Senator Vincent Hughes said. "If we are going to transform our city, and more broadly prepare Pennsylvania for a prosperous future, we have to continue to be intentional about investing in these types of projects that help our people with affordable housing and pair them with critical services," said Hughes.
"Our goal is not simply to build housing, but to create a true intergenerational community in which people support each other to live healthy, active and engaged lives," remarked Dyann Roth, President & CEO of Inglis. "And we are so pleased to receive this support from PHFA to make this community a reality," Roth said.
"With more than 300 years of combined history, Methodist Services and Inglis are making history again by forging a new community standard: a vital interactive system," said Anne Rice-Burgess, President & CEO of Methodist Services. "We recognize how creating a safe and stable home environment with Inglis Methodist Gardens will help address the social determinants of health. This will both improve health outcomes and reduce the strain on the health care industry." Rice-Burgess commented.
Funding for Inglis Methodist Gardens beyond the tax credits will come from a leadership gift of $4 million by Aetna Better Health of Pennsylvania. "We know that wellness isn't confined to the doctor's office, which is why we are active members of the communities in which we live and work, and one of the key reasons we made a significant investment here in southeastern Pennsylvania with Inglis and Methodist Services," said Jason Rottman, CEO of Aetna Better Health of Pennsylvania.
The Philadelphia Housing as Health Collaborative currently includes Methodist Services, Inglis, Belmont Behavioral Hospital, Family Practice and Counseling Network, Philadelphia College of Osteopathic Medicine (PCOM), Philadelphia FIGHT, and Jefferson University. Collaborative partners are committed to working as a group instead of in silos to address the broad issues of rising healthcare costs alongside of the lack of affordable housing. While hospitals and health systems cannot solve the looming healthcare crisis alone, this new collaborative will play a vital role in mobilizing and aligning resources to bring positive changes to under-resourced individuals and families.
About Methodist Services
Methodist Services provides life-enriching programs to children, adults, and families as they face the challenges of limited resources, increased poverty, homelessness, disabilities and inequities in education. Methodist Services provides early childhood education, school-age programs, housing services, supports for families, mental health and counseling services, summer camp, and nutrition programs. The organization has a legacy of providing services to the children of Philadelphia, since 1879. Devoted to the well-being of children in all walks of life, Methodist serves over 2,800 individuals, annually. Methodist Services helps children, adults and families secure a safe home and family life and to achieve health of mind and body to reach their greatest potential.
About Inglis
Founded in 1877, Inglis enables people with disabilities, and those who care for them, to achieve their goals and live life to the fullest. Inglis serves nearly 1,000 people daily throughout the Greater Philadelphia Region. Inglis supports independent, community living through innovative day programming, adapted technology, employment services and by offering wheelchair-accessible, safe and affordable housing - Inglis is the now the largest developer of this type of housing in the region. In addition, Inglis provides long-term, residential living at Inglis House, for adults with significant physical disabilities and complex healthcare needs.