March 17, 2019
Inglis and Methodist Services announce plans for first-of-its-kind Philadelphia Housing as Health Community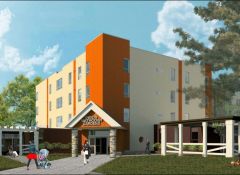 Breakthrough concept at future Inglis Methodist Gardens will bring together affordable housing, medical and social service organizations in one community, with major funding from Aetna
PHILADELPHIA, March 15th, 2019 - Inglis and Methodist Services today announced a planned, first-of-its-kind community in Philadelphia that will bring together affordable housing providers, health care organizations and social service agencies to form the Philadelphia Housing as Health Collaborative. The community, to be called Inglis Methodist Gardens, will serve homeless families and disabled citizens.
Follow this link to learn more about the new community and see the media coverage about our announcement.
"With more than 300 years of combined history, Methodist Services and Inglis are making history again by forging a new community standard: a vital interactive system," said Anne Rice-Burgess, President and CEO, Methodist Services. "We recognize how creating a safe and stable home environment with Inglis Methodist Gardens will help address the social determinants of health. That is why we are thrilled to have partners with whom we already work jointly assessing the health needs of residents and collaboratively creating comprehensive health management plans with residents at the helm. This will both improve health outcomes and reduce the strain on the health care industry."
The collaborative, which includes Philadelphia College of Osteopathic Medicine, Belmont Behavioral Hospital and Philadelphia FIGHT was formally introduced at Methodist Services in the Wynnefield neighborhood to an audience that included clients from Methodist Services and Inglis, community partners and local elected officials. Representatives from participating organizations highlighted their commitment to work as a group instead of in silos to address the broad issues of rising health care costs and lack of affordable housing.
Most importantly, they stressed the urgency to create substantial, lasting change for how often-ignored members of the Philadelphia community are cared for.
"Our goal is not simply to build housing, but to create a true intergenerational community in which people support each other to live healthy, active and engaged lives," said Dyann Roth, President and CEO, Inglis. "We are committed to bringing effective, integrated services to the individuals and families who will live in Inglis Methodist Gardens, and to sharing our learnings with others - in Pennsylvania and across the nation – who are similarly focused on how safe, affordable and accessible housing can be used to improve the health of people with complex needs while reducing overall healthcare costs."
Once completed, Inglis Methodist Gardens will connect formerly homeless people and individuals with disabilities to 47 affordable, integrated and supportive apartments. Aetna is funding $4 million of the $16.4 million development cost.
"In Pennsylvania, Aetna actively forges meaningful collaborations, through measurable investments and proactive responses to community needs," said Jason Rottman, CEO, Aetna Better Health of Pennsylvania. "We know that wellness isn't confined to the doctor's office, which is why we are active members of the communities in which we live and work, and one of the key reasons we made a significant investment here in southeastern Pennsylvania with Inglis and Methodist Services."
Program speakers, who included Pennsylvania Department of Human Services Executive Housing Director Ben J. Laudermilch, Pennsylvania Intergovernmental Affairs Deputy Secretary Andrew Sharp, State Senator Vincent Hughes, State Representatives Pamela DeLissio and Isabella Fitzgerald, and City Councilmembers Curtis Jones and Derek Green. They discussed how oftentimes, those who struggle to find an affordable place to live also have the most difficulty meeting their health care needs.
"The joint venture between Methodist Services and Inglis as well as the larger Philadelphia Housing as Health Collaborative embodies the kind of work that is required to meet the demand for housing in Philadelphia and across the commonwealth," said Director Ben J. Laudermilch, Executive Housing Director, Pennsylvania Department of Human Services. "We are pleased to be a partner in your efforts and look forward to working with you in the future."
Elected officials in attendance also expressed excitement that Inglis Methodist Gardens will help more people focus on staying well and leading stable lives instead of worrying about where they will sleep.
Indeed, stable, decent and affordable housing has been linked to improved health outcomes for sick individuals.
Additionally, permanent housing leads to health care cost savings, as people who are homeless or poorly housed disproportionately use high-cost health care resources – such as frequent emergency room visits.
Based on similar programs in Portland, Maine, New York City, Rhode Island, Portland, Oregon and Denver, Colorado, securing supportive housing for just 500 Pennsylvanians experiencing chronic homelessness could save $4.3 million per year in health care costs, according to a 2016 Pennsylvania Department of Human Services report.
Hospitals and health systems can't solve the looming health care crisis alone, just as social service organizations can't solve the ballooning affordable housing crisis alone. But within this new collaborative and future housing space, each player will have a vital role in mobilizing and aligning resources to bring positive changes to disadvantaged individuals and families.