February 01, 2021
Self-Determination Housing of Pennsylvania Merges with Inglis - becomes a program of Inglis Community Services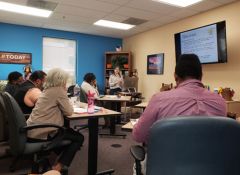 PHILADELPHIA, PA (FEBRUARY 1, 2021) — Inglis, a more than 144-year-old, Philadelphia-based organization serving individuals with disabilities, announced today that Self-Determination Housing of Pennsylvania (SDHP) has joined the Inglis organization as a program of its community-focused division, Inglis Community Services, and will now operate under the Inglis banner.
For more information please visit the SDHP section on our website.
Both organizations are well established in their commitment to increasing independence for people with disabilities in Pennsylvania. SDHP is a statewide program that leads an array of accessible housing initiatives across the entire Commonwealth. Since its establishment in 1994, SDHP has advanced its mission to promote self-determination and control in housing for persons with disabilities and older adults. They bring an extensive affordable housing network as well as a deep knowledge of housing, vouchers, and home modification resources to Inglis' array of services.
"Maintaining housing that meets our individual needs is essential to good health and a sense of security and stability in one's life," said Pennsylvania Department of Human Services Secretary Teresa Miller. "As the public health crisis continues, this work is even more critical. I'm grateful to both Inglis and SDHP's work to serve the housing needs of Pennsylvanians with disabilities and I look forward to seeing the good that will come of this partnership."
Since its founding in 1877, Inglis has been supporting people with disabilities to achieve their goals and live the lives they choose. From assistive technology, independent living apartments, and other community-based programming to long-term care – Inglis meets the needs of the people it serves along a continuum of care.
"We are excited to bring the whole SDHP team into the Inglis family," said Inglis President & CEO, Dyann Roth. "This merger will enable SDHP to expand on its mission and vision for increasing affordable and accessible housing options across the state. And at the same time, it diversifies our Inglis Community Services portfolio by adding new service lines that support individuals with disabilities who seek to obtain, maintain and/or modify independent living options. It also expands our service footprint statewide," Roth said.
Inglis is committed to expanding housing options and supports for people with disabilities through multiple strategies. As a community-based service, SDHP's work involves training, education and referrals to service providers, government organizations, and landlords who, in turn, work directly with individuals with disabilities who are seeking housing. Inglis Housing Corporation, a separate Inglis entity, seeks to impact the housing crisis by developing new affordable, accessible housing communities and providing property management services for the individuals living in those apartments.
SDHP Co-Executive Directors, Leah Marmo-Rainey, MSW and Laura Willmer-Rodack, MSW said "SDHP has a rich history advocating for accessible housing and providing quality housing education across the Commonwealth. We could not be happier to move into this new phase with Inglis. Our work together will only enhance both organizations' impact and allow more people with disabilities to have access to housing that meets their individual needs."
Though now a program of Inglis Community Services, SDHP will continue to operate as it has always done, and administer their Regional Housing Coordinator Program which includes their accessible and affordable housing trainings; the 811 Project Rental Assistance which provides housing rental vouchers to people with disabilities; and Accessible Home Modification services.