June 19, 2021
Celebrating and honoring Juneteenth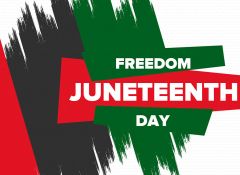 In 1877, Inglis was founded on the principles that people with disabilities should be given all the opportunities and support to live the lives they choose and, as our mission says, "achieve their goals and live life to the fullest." In those days, seeing people with disabilities as whole persons – people with goals and aspirations, people who deserved respect and independence – was a radical view, but one that was shared by a committed community that helped make Inglis possible.
More than a decade before Inglis' origin, another event unfolded – one that was a rare bright spot in an otherwise dark period in our nation's history. One hundred fifty-six years ago, on this day, in 1865, enslaved Africans in Galveston, Texas, learned from Union soldiers that they were free, and the Civil War had ended – two years after Abraham Lincoln signed the Emancipation Proclamation.
Since then, people in cities and towns across the US continue to mark the occasion with celebrations for the holiday of Juneteenth (a blending of June and nineteenth). Also called Emancipation Day, Juneteenth is the oldest regular US celebration of the end of slavery and, to many, it is this country's second Independence Day. Governor Tom Wolf designated June 19th as National Freedom Day in Pennsylvania, Mayor Kenny has once again, designated it a city holiday and, on Thursday, President Biden signed it into law officially making Juneteenth the first new National Holiday in nearly 40 years!

The very foundations of our country were intended to be based on our shared commitment to our rights. And celebrating those rights for any American should be a celebration of those rights for all Americans --- at least that has been the ideal to which we continue to aspire.
Unfortunately, we have fallen far short of that goal too many times. Racial and ethnic inequalities have been a part of American society since its inception and have created barriers for people of color, causing them to be both witnesses and victims of brazen inhumanity. Inglis is not a political organization, but we could not stay silent.
Last year, Inglis took a small, but meaningful step by formally adding Juneteenth as an official Inglis holiday. This year, Juneteenth was observed Friday June 18th.
While adding one paid holiday will not change the very real issues faced by our community and our country, and especially for people of color, it is a way for us to say publicly that we recognize the painful and poignant times in our nation, both past and present; Juneteenth, as Mayor Kenny said, "represents the resiliency of the human spirit, the triumph of emancipation and marks a day of reflection."
We have a lot of difficult work to do to ensure that racism is surfaced and addressed in a constructive manner in our organization, and we are committed to doing that work going forward.
We are a community, and we are here to support and care about one another.