November 26, 2013
Thanksgiving 2013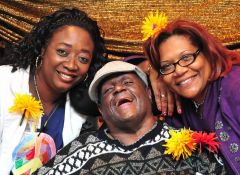 Dear Inglis Friends,
All of us on the Senior Team express our heartfelt gratitude for being a part of the Inglis community. As we reflect on the past year, here are just a few of the people we are thankful for this Thanksgiving:
Residents and consumers who show us that in life, it's not what we can't do, but what we can do to make the most of each day.
Caregivers, throughout Inglis and across our community, who demonstrate that caring is our greatest act of love, compassion and courage.
Inglis staff whose constant commitment empowers our consumers to live their lives with good health, maximum independence and great dignity.
Dedicated volunteers whose generosity and contagious spirit of enthusiasm enlivens life at Inglis every single day.
Our deeply committed Board of Directors whose wisdom, support and unwavering commitment ensures Inglis' mission thrives - now and far into the future.
And last, but not least, we are thankful to generous donors whose support enables us to offer programs like adapted technology and social enrichment that would not be available to our residents and consumers without their support.
It is our honor to serve you and lead this amazing organization.
We wish each of you and your loved ones a happy Thanksgiving and joyous holiday season filled with joy, peace and gratitude.
With deepest appreciation for each of you,
Gavin Kerr