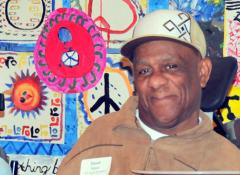 David Mears
David Mears' life is about service — whether at Inglis House, or to our nation.
In 1958, fresh out of high school in Buffalo, NY, David defended the border between the Koreas at the height of the Cold War. He commanded an armored personnel carrier as part of a reconnaissance unit, then a mortar unit. A simple misstep from one of his fellow soldiers could have launched another world war. The Korean frontier was a tense place.
As the war in Vietnam expanded, David was called to Fort Riley, Kansas, where he trained men to survive the jungles of Southeast Asia. He retired a staff sergeant in 1967, an honorable and distinguished career, ready for civilian life.
"I climbed mountains. I played football in high school, and pick-up games later. No problems," he tells his friends.
But David's service to our country didn't stop when he took off his uniform. Shortly after, he joined the United States Postal Service. He took one of the most demanding jobs in the system — sorting mail at Philadelphia's 30th Street facility. "The technology was always changing," he recalls. "You had to keep up."
All the while, he was passing on his dreams and aspirations to his five children, from his love of football to making sure that they had a solid start in life, including the education he never had.
"My son coaches football at Alfred University, in New York State," he says with obvious pride. "A daughter is a nurse here in Philadelphia. I have a grandson studying languages in Africa. They're all doing well."
So this man of service, this man of commitment to his family and country, was felled not by a football tackle, a bullet shot in anger, an accident with the dangerous machinery moving our country's correspondence but by a simple act…. watching sports on television.
"I was on the sofa watching a game. My legs fell asleep," he remembers. "I was trying to get up, and I fell back. I kept falling. My neck hit the corner of a wall. It was as simple as that."
He lay on the floor for three hours, not able to move. His wife found him and called the rescue squad. He went to Thomas Jefferson University Hospital.
David was stabilized, and after three months went to live with his daughter, a nurse in suburban Buffalo, NY. Six months later, he was admitted to the VA system — first in the Bronx, then to East Orange, NJ. "I could see the Twin Towers from my window," David recalls, "I left for the Philadelphia VA hospital about a week before 9/11."
By 2003, five years after his accident, there was no more the VA could do for him. He needed a permanent home. His daughter found Inglis House.
"The first time I came here they said they could take me in three days. It was too quick. I had to turn it down. I needed time to sell my house and deal with my mother's estate," David said. But a year later, everything lined up — his life was more stable and a space opened up — and he joined the Inglis House community.
"At the VA, not everyone had a [wheel] chair. Here we're geared for chairs. There's MUCH more to do here. At the VA, you were sitting most of the time." At Inglis House, David changed his life in a lot of important ways — for example, he stopped smoking.
David continues to serve his fellow citizens even in his new home. He was recently elected Vice President of the Resident Council. He negotiates issues between the residents and the administration of Inglis House — working to resolve concerns in facilities, nursing and more. But David's reach has gone well beyond the walls of Inglis House. David and his fellow Council members met with City of Philadelphia Streets Department officials and elected representative to get a traffic light installed at the north entryway to the property. "The street was a straight stretch with no lights for several blocks. The local residents didn't want a traffic light there. But we're the biggest number of voters in the neighborhood. It feels great winning at City Hall," David recounts with a smile.
Since then, David has been active in the Resident Council Officer's Association, a gathering of rehabilitation facility resident representatives in the Belmont area.
The entire community — inside Inglis House and beyond — is well served by David.