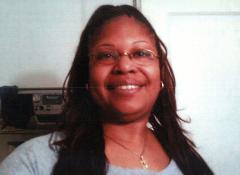 Carolyn Collins
Inglis consumer finds her poetic voice and helps others living with MS
"I've been through so much," laughs Carolyn Collins, "I have to stay positive." Sharing that positive attitude is at her core. Carolyn, a published poet and resident at Inglis Gardens at Germantown encourages others by being open about her experiences living with Multiple Sclerosis through her online MS Support Group.
Prior to being formally diagnosed with MS in 2007 at age of 36, Carolyn had suffered many years before the MS was identified. "It was so bad that I'd only be able to work for an hour or two before needing to go the hospital," recalls Carolyn, a former security supervisor at the Springfield Mall.
Following her diagnosis, Carolyn was referred to Inglis Care Management Services. Due to a shortage of affordable, accessible housing, she waited four-and-a-half years to move into Inglis Gardens at Germantown. "Being able to just roll into my apartment has been a blessing," says Carolyn, who is a wheelchair user.
Carolyn says that courage and determination are traits that she learned from her mom, who battled breast cancer and passed away in 1992, and through her faith. "Now, I'm positive for everybody," she says, referring to her online support group. "Sometimes, those who've just been diagnosed with MS think that they're dying. I tell them, 'You can manage this. With the right doctor, team and treatment you can live—and live happily.' I also advise them not to let anyone tell them how they should feel. People can't see the effects of MS the way they can see a broken leg and can have a hard time believing you're ill." Writing poetry is a source of joy. She recently published a book of poems, Seeing the World through My Eyes. "For years, people told me that I didn't have a voice," she says. "But these poems represent my emotions and experiences. If you have a dream, don't let anyone talk you out of pursuing it."
Below is an excerpt from "Smile" by Carolyn Collins:​
Smile
The lights go out around the
world and the day comes to
an end.
You lay still, thinking of all
The beautiful things you saw
And the wonderful things you heard.
You close your eyes and dream joyful thoughts that make you smile.