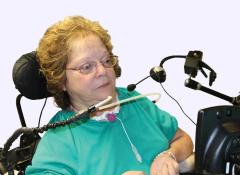 Lucia Quinn - Keeping Family Close with Technology
Lucia Quinn was a busy 35-year-old, mother of four when an accident involving a drunk driver changed her life forever. Today, Lucia lives with quadriplegia, but her determined spirit ensures that she's still active and involved in the lives of her children, eleven grandchildren and great-grandchild.
Lucia uses Skype to stay connected with her large family but is especially grateful to use it to keep in touch with her daughter Jenny who lives in Oregon. "Skype is a godsend," says Lucia. "When my daughter lived in Philly I spent every Sunday with her. After she moved, we used the phone or Facebook, but it just wasn't the same. Now, when the rest of the family has a party or a get together here, we can use Skype or FaceTime on the iPad. We all eat together and the kids interact with everyone. It really does bring us all together."
Before coming to Inglis, Lucia was not a computer user. Now she dedicates herself to learning, using and teaching others how main-stream and adapted technologies are used for independent access to most computer programs. She does data entry for Inglis as a resident worker, and teaches basic and voice-activated computer skills to other Inglis residents.