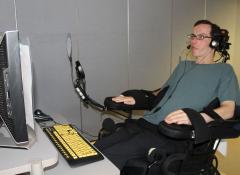 Ron Smith - The Music Never Stops
Inglis resident Ron Smith has a passion for music, from indie to country and even a bit of rap. He loves to talk about the shows he's seen and was enthralled with the Grateful Dead's series of farewell concerts this summer.
After Ron, age 34, sustained a spinal cord injury in March 2013, he was sure he'd never be able to use a computer again. But today, using Dragon Naturally Speaking, a speech-recognition software package, he is able to view concerts on YouTube, as well as email, shop, keep in touch with friends on Facebook and watch news and sporting events.
"Before coming to Inglis six months ago, I was in another nursing home," says Ron. "It wasn't a good fit—the residents were much older and I didn't even have a power chair. When I got here, I started exploring and saw that they had Dragon in the Computer Lab. The staff and other residents helped me to maximize my use of it and have been really upbeat and helpful. It's opened up a whole new world for me."