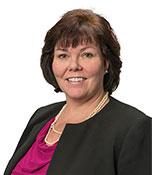 Meet Dyann Roth
Meet Dyann M. Roth, who became Inglis' President & Chief Executive Officer in August.
An exceptional executive and visionary leader, Dyann comes to us from Resources for Human Development (RHD), where she was CEO. RHD is a nation-wide, Philadelphia-based organization that provides services to those living with intellectual and developmental disabilities, as well as those facing behavioral health, homelessness, addiction recovery and other challenges. She succeeds Gavin Kerr, who joined Inglis in 2008.
At RHD, Dyann led more than 160 programs across 15 states, guiding the organization through rapid growth and change while maintaining a tight focus on mission. Since becoming that organization's CEO, she completely reorganized operations and created its first strategic plan. Under Dyann's leadership, RHD has been honored multiple times by the Philadelphia Business Journal as one of the city's Best Places to Work.
Dyann, who began her association with RHD as a part-timer during high school and college, was identified as the organization's future CEO in 2008. She held significant operational roles in preparation, and became CEO in 2013. She holds a Bachelor of Arts from Penn State University and a Masters of Science in Organizational Dynamics from the University of Pennsylvania.
"I am incredibly excited to have the opportunity to join the Inglis Community and to learn from and be inspired by the people Inglis supports each day," says Dyann. "Inglis' strong history and commitment to mission, person-centered values and innovation will serve the organization for decades to come, and I look forward to being part of that future."
The Inglis community is looking forward to a bright future under Dyann's leadership.