April 22, 2013
Inglis Announces Recipients of 2013 Awards For Continuing Excellence Including Cash Prizes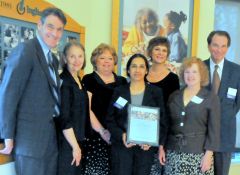 Philadelphia, PA (April 22, 2013) – The Inglis Board of Directors announced the winners of the 2013 Inglis Awards for Continuing Excellence. The Awards program honors the outstanding performance of not-for-profit organizations in the Greater Delaware Valley that enhance the quality of life for people with physical disabilities, and by doing so, support the Inglis mission of enabling people with disabilities – and those who care for them – to achieve their goals and live life to the fullest.
Five organizations will each receive a $10,000 award:
Art-Reach, Inc.
Easter Seals DE & MD's Eastern Shore
Pennsylvania Elks Major Projects
National Multiple Sclerosis Society-Greater Delaware Valley Chapter
United Cerebral Palsy of Delaware, Inc.
The award winners will be honored at a ceremony at Inglis, Philadelphia, PA, on May 14, 2013. "In making the awards, we give priority to organizations using innovative strategies and approaches that can be replicated," says Suzanne Rotondo, member of the Inglis Board of Directors and chair of the 16-member awards committee. "We also look for programs addressing service gaps, barriers to access and life transitions such as those that help clients move from institutional to independent living," Rotondo said.
"Easter Seals DE & MD's Eastern Shore is honored to be recognized for our work increasing independence and opportunities for people with disabilities," said Board Chair, Cynthia Morgan. "This award feels like validation, said William J. McCool, Executive Director, United Cerebral Palsy of Delaware, Inc. "We know our clients like what we do but it is equally wonderful to receive this kind of recognition from a peer."
Since the awards began in 2005, Inglis has awarded nearly $500,000 to 40 organizations devoted to serving people with disabilities in this region. "Inglis is proud to continue this awards program," said Inglis President & CEO, Gavin Kerr. "Inglis is among many organizations who work together to assure that people with disabilities have the opportunities to live great lives," Kerr said. Inglis maintains an information network of all previous winners to continue to share best practices and ongoing communication.
"This award will help the PA Elks Home Service Program continue to help children and adults with disabilities in the Greater Delaware Valley to improve their health outcomes and live as independently as possible," said Margie Wood, RN, Special Projects Director for their program. "We greatly appreciate this recognition and the funding that comes with it," says Karen Mariner, Vice President of Advocacy, for the Greater Delaware Valley Chapter of the National MS Society. "These additional financial resources will allow us to take some innovative approaches to our work and enable us to reach even more people with our much-needed services."
Art-Reach is thrilled to be among the recipients of the 2013 Inglis Award for Continuing Excellence," said Marion Young, Art-Reach Executive Director. "It is a great honor to be recognized in a group of such strong organizations who have all done so much for individuals with disabilities."
2013 ACE RECIEPIENTS
ART-REACH, INC., Philadelphia, PA
Art-Reach enriches lives by connecting underserved audiences with cultural experiences so that they may enjoy and benefit from the transformative power of the arts. Founded in 1986, Art-Reach is the only organization in Philadelphia solely devoted to this mission. To date, Art-Reach has served more than 248,000 people in schools, hospitals and residential facilities. Through its programs, people of all ages, socioeconomic backgrounds and physical capabilities are engaged in the arts and enjoy the extended benefits of self-expression, independence, creative thinking and pain management. Their workshops for people with limited mobility include wheelchair dancing, movement classes and wheelchair art classes where participants use the wheels of their chairs as paintbrushes. www.art-reach.org
NATIONAL MULTIPLE SCLEROSIS SOCIETY-GREATER DELAWARE VALLEY CHAPTER, Philadelphia, PA
The Greater Delaware Valley Chapter of the National Multiple Sclerosis Society mobilizes people and resources to drive medical research and address the financial and emotional challenges of individuals and families affected by Multiple Sclerosis (MS). Programs include: MSWorks to help professionals with MS gain employment; a home modification program providing grants to those who do not qualify for income-based assistance programs; a counseling support program to help pay for services addressing the emotional health impact of MS; self-help support groups, and intensive care management services. In addition, a robust advocacy effort keeps legislators informed of the service needs of clients. www.nationalmssociety.org/chapters/PAE/index.aspx
PENNSYLVANIA ELKS MAJOR PROJECTS, INC., Greater Philadelphia Region
The Pennsylvania Elks promote the independence of individuals with severe, chronic physical or combined physical and mental disabilities by providing free, in-home support services. Currently, four Elks Home Service units provide services to 500 families in Bucks, Chester, Delaware, Lehigh, Montgomery and Philadelphia counties. Elks nurses address each client's comprehensive health and wellness needs, including those related to mental health, education, housing, recreation, socialization, transportation. They also help clients achieve their career goals. In addition, the organization assists individuals and their caregivers to navigate the social services system and connects them with resources to improve their health and quality of life. These free services are available to clients of all ages and income levels on a long-term basis. www.paelkshomeservice.org
EASTER SEALS OF DELAWARE AND MARYLAND'S EASTERN SHORE, New Castle, DE
Easter Seals provides services to ensure that people with disabilities or special needs have equal opportunities to live, learn, work and play in their communities. The chapter serves children and adults with disabilities through direct services in rehabilitation, vocational training and placement, recreation, and in home companion and homemaker services. It is the largest provider of early intervention therapies for children from birth to three years of age in Delaware. In addition, adult day health services, outpatient rehabilitation therapy and assistive technology programs are offered to adults with a variety of neurologic and orthopedic conditions. The organization also offers education and training for individuals with disabilities, their families and health care professionals. www.de.easterseals.com
UNITED CEREBRAL PALSY OF DELAWARE, INC., Wilmington, DE
United Cerebral Palsy of Delaware provides social, residential, recreational and educational programs to over 600 clients throughout the state with a range of physical disabilities. Other services include referral, advocacy and respite care. In addition, a Client Assistance Program assists people with disabilities through the complicated process of rehabilitation so that they can find employment. An accessible housing program locates affordable, accessible housing and support services to help clients live independently. www.ucpde.org
INGLIS (www.inglis.org) enables people with disabilities - and those who care for them - to achieve their goals and live life to the fullest. Serving more than 1000 people daily, INGLIS includes a specialty nursing care facility providing long-term, residential care for 297 adults with physical disabilities including multiple sclerosis, cerebral palsy, spinal cord injury and stroke, among others. Residents receive rehabilitative medical and nursing care; physical, occupational and speech therapies; and social enrichment programs. In addition, INGLIS offers services to more than 800 people living independently in the community including accessible housing, care management (helping people navigate the health care system), adult day care programming and community employment. INGLIS is the largest provider of affordable accessible housing in the Greater Philadelphia region with 208 housing units currently with plans for 50 more by 2015. INGLIS developed, assembles and markets a patented hands-free water bottle for wheelchair users called Drink-Aide®. All INGLIS' services and programs are designed to enable people with physical disabilities to enjoy life with the greatest amount of independence and mobility.
# # #