April 29, 2013
President's Letter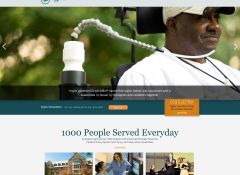 WELCOME TO OUR NEW INGLIS WEBSITE
A Message from Gavin Kerr, Inglis President & CEO
The internet has become our window to the world. For people whose disability limits their ability to get out into the world, the internet is that and so very much more. That's why Inglis is investing so heavily in Adapted Computing and in building a state of the art technology platform to enable people living with disabilities to achieve their goals and live life to the fullest.
I am pleased to welcome you to the newest piece in our technology toolbox – Inglis' new website! Our new website takes advantage of advances in programming and technology to make our site fully accessible to people with disabilities.
It has been carefully crafted to provide visitors with expanded content and is written to make navigation easier for people with disabilities who use adapted technology tools to access the internet. Our goal was to create a clean, simple design that would be both beautiful and fully functional for all users and would far exceed national standards for accessibility. This was a key objective, but given our mission, we wanted to go further. We wanted to develop a website that was not only accessible to website visitors, but equally accessible to programmers with disabilities as well.
Our web development and design partner, King Design LLC, in Jenkintown PA, adapted an open-source programming code for the site's content management system to enable people with physical disabilities to use a wide range of adaptive devices, such as adapted keyboards, screen readers and voice recognition software, when visiting or programming the website. This customized programming was expensive and we are deeply appreciative of a very special grant from The Pew Fund of The Pew Charitable Trusts. We are grateful for their support and commitment to enhancing accessibility for people with disabilities.
With compelling stories about those living independently in the community as well as residents at Inglis House; frequently asked questions for our major programs; resources like downloadable employment and Inglis program applications; new photo and art galleries; and greater capacity for you to share pages, stories, and programs at Inglis with your friends through social media outlets like Facebook, Twitter and YouTube, we hope you will enjoy exploring and learning more about the remarkable people in the Inglis Community.
Welcome! I hope you enjoy the experience and would love to hear your feedback so we can make this site the most accessible and the most useful for persons whose lives are touched by disability. Please email me with compliments, complaints and suggestions at gavin.kerr@inglis.org.
Enjoy!
Gavin Kerr