February 17, 2017
Inglis Artists Have Gallery Show in Old City Philadelphia
Disability in the News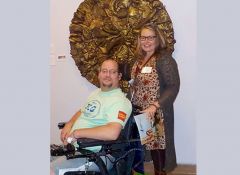 Art show honors the special relationship between student & teacher, while at the same time highlighting work by an artist with a disability.
See article from The Jewish Exponent about the show and how it came about.
The Old City Jewish Art Center will celebrate the special rapport between an art student and teacher as they host a two-person exhibition featuring works from Ty Klug and his art teacher, Rhoda Kahler. Their work will be on exhibit through February 28th at The Old City Jewish Art Center - 119 North 3rd Street, Philadelphia, PA 19106. Kahler's 24 pieces in the show will mostly be sculptural ceramic relief tiles on panel while Klug's 19 include paintings and mixed media pieces. There will be an artists' reception at the Center on Thursday, February 23rd from 5:30pm -8:00pm.
Kahler, a ceramic artist specializing in handmade tile, sculpture and installations, has had her work featured in magazines, newspapers and on television, including HGTV and been showcased in group shows in Philadelphia, but this will be her first duo show in the city. This will also be the first major Philadelphia showing for Klug, an abstract painter who works in acrylics and mixed media. A native of Grand Rapids, MI, his works have been exhibited in solo shows in Michigan and included in juried art shows in the Philadelphia area.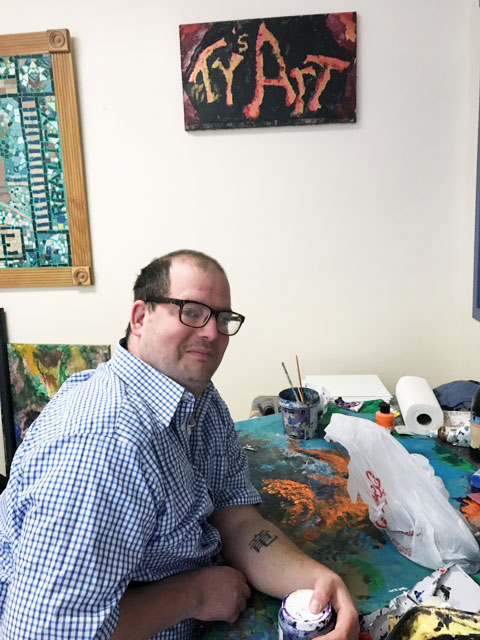 Originally from Michigan, Klug found Inglis after his diagnosis of primary progressive Multiple Sclerosis. Determined to continue living his life to the fullest, he moved to Inglis House in 2014. Despite the limitations his disease can inflict, Klug is determined to continue creating art. Through Inglis, Klug met artist-in-residence, Rhoda Kahler, and attends her weekly Emerging Artists program, funded by the Dolfinger-McMahon Foundation.
Klug's artistic vision is very much influenced by his perspective on life – given his disability, he sees art as a way to express his belief about body and soul, "I am a firm believer that we are souls first," said Klug, "the afflictions of the body are fleeting. I am interested in creating art that conveys this message, we are souls with bodies."
West Chester, PA resident Kahler has taught classes and workshops at the Philadelphia Museum of Art, the Delaware Art Museum, and numerous regional art centers nation-wide. She finds meaning in a Japanese quote by an unknown artist, "to understand and indulge in the emotional appeal of objects to the human heart." According to Kahler, "Art is everywhere, whether or not we realize it, it is. For me," she says, "it is this relationship between an object or feeling…looking at the mundane and seeing something beautiful and unique."