January 17, 2014
President's Letter - January 2014
Love. It is not a topic CEOs write about very often. But it is the word, and the reality, at the heart of everything we do at Inglis. Even in the midst of this cold, cold winter, the warmth of our community radiates across the region. I am proud to share some of these stories of love with you in the hope they will warm your heart as well.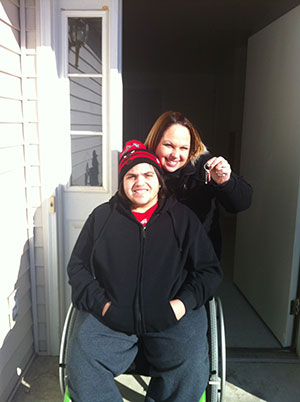 Home for Christmas
"I just want to thank you so very much. This year [2013] has been a very sad difficult year for me and my family. My son Alex [age 17] came to the United States [from Puerto Rico for surgery] able to walk, and [after four spinal surgeries] he ended up in a wheelchair, not being able to walk again. I have shed so many tears this year that words cannot describe it. When I thought hope was lost, [after his discharge, the family was told a homeless shelter was their only option] and that I would never find a place for me and my family, God answered my prayers. They say that every person has a guardian angel. Inglis was mine. I just want to thank you and the staff who made it possible for my family to reunite together. I have not seen my son, Joseph, or daughter, Vanelle, for over a year while taking care of Alex. I will now be able to be with them. You made it possible. Thank you. I will always consider Inglis part of my family and forever be grateful for what you have done." – Mrs. Ludy Santos
A home is essential for all of us – and especially difficult to find if you have a disability and limited resources. Inglis has made building safe, accessible and affordable homes a top priority for many years. There are many stories – similar to the Santos family's plight – of families and individuals who are desperate to find a home that will accommodate their wheelchairs and mobility challenges. The waiting list for the 208 housing units operated by Inglis is huge – exceeding 3 years as I write. Too many people still need a home of one's own – a place feeling safe and warm and part of a community. It makes all the difference.
In my last letter, I described how Inglis had recently broken ground on our first new housing development since 2007 – Mission Green – a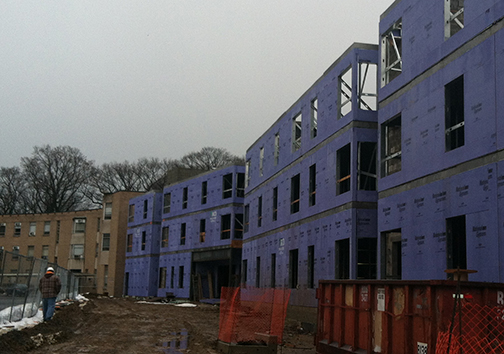 collaboration with the Medical Mission Sisters near the Fox Chase section of Philadelphia. I am pleased to report that 58 of the 61 units have already been leased in anticipation of this summer's opening. Inglis has committed another $8M to construct additional 1, 2 and 3 bedroom homes at 2566 Belmont Avenue next door to Inglis House. This new apartment complex will provide an additional 80 housing units for people with disabilities and other qualified families. We are waiting for approval of Low-Income Housing Tax Credits for the remaining $14M needed to construct our new neighborhood. I hope that my next letter will report good news about our groundbreaking!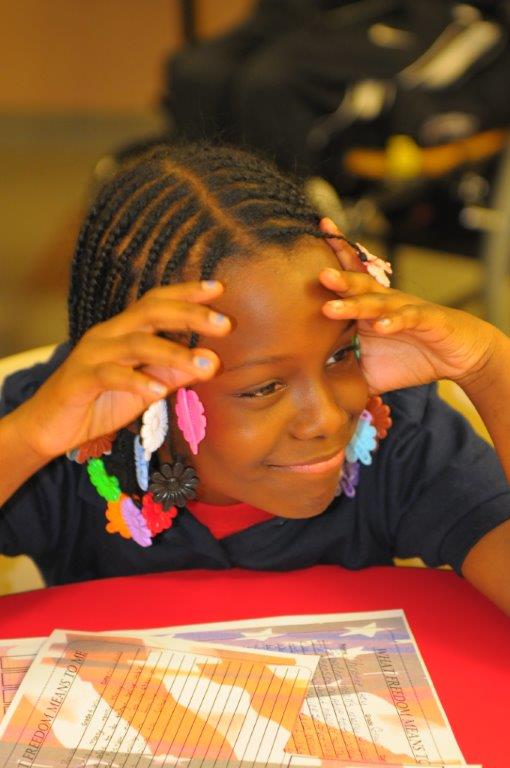 Sharing the Love
Inglis Housing Corporation is blessed to have an extraordinary staff led by Kevin Kelly, Vice President & CFO, and Chris Lacy, Director of Inglis Housing. The team exemplifies our definition of love: competence, compassion and caring given passionately to enable people with significant disabilities to achieve their goals and live life to the fullest. One of the best examples recently took place at the Inglis Apartments at Elmwood in South Philadelphia with the Service in Service Project. This partnership - led by Inglis tenants and staff - connected veterans from HELP Philadelphia Homes - Robert A. Brady Veterans Center with fifth graders from Thomas G. Morton Elementary School throughout the school year. The veterans and Inglis representatives shared stories, meals and activities around the themes of freedom and independence to help students learn more about people with disabilities and those who bravely served our nation. A very stirring recognition ceremony was held last month, complete with a color guard and inspiring testimonies about the group's shared learning. Inglis seeks to expand outreach programs like this one as we collaborate with EducationWorks to bring our Service in Service Project to our other housing communities across the region.
Holiday Cheer at Inglis House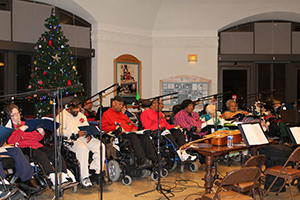 Many of our social enrichment programs are sustained thanks to you, the wonderful donors and volunteers who contribute your time, talents and resources to engage Inglis residents and consumers year-round. This is especially true during the holiday season with so many contributing to the holiday gift drive, which ensures that all 297 Inglis House residents receive a gift wrapped with TLC by our volunteers. We are especially appreciative for the love of the Prince family, who provide a financial gift to each resident for their holiday shopping needs.
The Ray of Hope Foundation, led by volunteers Anwesha Dutta and Hemang Desai, held an event in November to raise funds for adapted technology and resident access to e-books. Many Inglis residents have never read a book independently, as they are unable to hold or manipulate the pages. The digital library promises to provide our residents with an extra, potentially life-changing measure of enrichment and independence. They also conducted a gift drive at PricewaterhouseCoopers with Foundation Director, John Dugan, and spent an afternoon at Inglis wrapping presents and helping residents write holiday cards. Many local church groups and organizations came to perform holiday concerts and we are grateful to all for making Inglis merry and bright over the holiday season. We continue to seek volunteers and performers for these kinds of activities year-round, and hope you will consider lending a hand. For further information please contact Michael Kelly, Coordinator of Volunteer Services, at (215) 581-0718, or michael.kelly@inglis.org.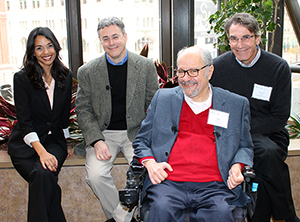 Peace of Mind
One of the true highlights of 2013 occurred in November, when 200 caregivers gathered at the DoubleTree Hotel in Philadelphia for what is believed to be the first conference teaching mindfulness meditation to family members who lovingly provide care to people living with physical disabilities. Inglis partnered with the Christopher and Dana Reeve Foundation to present noted psychologist Dr. Dan Gottlieb, mindfulness expert Michael Baime, M.D., and 8 exceptional facilitators from the Penn Program for Mindfulness. The all-day program stressed that although caregiving is an act of love, even under the best of circumstances caregivers must practice self-care as a key element in caring for others. The practice of mindfulness meditation can be a powerful tool to help people cope with the extraordinary stresses of caring for a loved one living with a disability. The conference received rave reviews from attendees and we are grateful to our collaborators for this very meaningful and impactful program.
"Very professional, extremely comfortable safe space to explore some very emotional aspects of myself. I am forever grateful."
"It was so empowering to be in a room with so many other people who are caring for someone else. I realize how fortunate I am that I could be here today and learn how to really be there for myself."
– Mindfulness for Caregivers Conference attendees
The Need for Inglis' Love Never Wanes
As we enter 2014 the need for Inglis' services continues to grow as budget cuts and uncertainty impacts many of the very vulnerable people we serve. Reductions in food stamps and benefit programs have made life even more challenging for consumers. Continuing federal deficits make cuts in Medicare and Medicaid reimbursement – our primary funders – loom large. The Commonwealth must address over $1.2B in FY 15 deficits in what remains a sluggish regional economy. People like the Santos family rely on all of us to help bring families together, find jobs, embrace technology, enlighten the next generation, and create meaningful connections that help our community focus on the ability of people who happen to use wheelchairs.
We are grateful to you for supporting our work through your generosity of spirit and continued sharing of your time and your resources. With your support, anything is possible!
With great appreciation,
Gavin Kerr
President & CEO