May 06, 2014
Inglis Announces Recipients of 2014 Awards for Continuing Excellence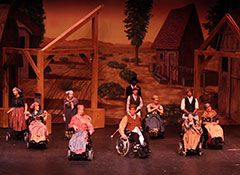 INGLIS ANNOUNCES RECIPIENTS OF 2014 AWARDS FOR CONTINUING EXCELLENCE INCLUDING CASH PRIZES
Since 2005 Inglis has awarded more than $500,000 to 40 plus organizations devoted to serving people with disabilities in this region
The Inglis Board of Directors announced the winners of the 2014 Inglis Awards for Continuing Excellence. The Awards program honors the outstanding performance of not-for-profit organizations in the Greater Delaware Valley that enhance the quality of life for people with physical disabilities, and by doing so, support the Inglis mission of enabling people with disabilities – and those who care for them – to achieve their goals and live life to the fullest.
Four organizations will each receive a $12,500 award:
Acting Without Boundaries
Acquired Brain Injury Network of Pennsylvania
Magee Rehabilitation Peer Mentor Program
Pennsylvania Assistive Technology Foundation
(See all the winners of the ACE Award)
The award winners will be honored at a ceremony at Inglis, Philadelphia, PA, on May 6, 2014. "In addition to providing these awards to help the people and the people that these organizations serve, the awards and recognition really allow these organizations to network with each other, partner with us, and to build a community that can really impact our constituents" says Won Shin, member of the Inglis Board of Directors and chair of the 10-member awards committee.
"The single most important part of the ACE awards is that it allows organizations who are serving consumers with a similar mission to Inglis to come together and to stretch our resources," said Inglis President & CEO, Gavin Kerr. "This allows us to help each of those consumers pursue the goals that matter to them, and to find new ways to make the most of their live," Kerr said.
"For a program like ours that is completely funded by donors and grants, if we didn't have folks like you giving out these kinds of awards, we would not have a program," says Barbara Dively, Executive Director of the Acquired Brain Injury Network of Pennsylvania. "To get recognition like this not only from the patients and families but from places in the community, foundations like Inglis, is just fabulous. We are so excited!" said Nancy Rosenberg, PsyD, Director of the Magee Rehabilitation Peer Mentor Program.
Read the full press releasae here. (PDF opens in a new window).