June 30, 2014
President's Letter - June 2014
Dear Friends,
The end of our fiscal year is a great time to step back and celebrate the many wonderful things that are happening at Inglis! After much hard work and the contributions of our entire community – consumers, residents, staff, volunteers and donors – Inglis is marching into the future stronger and better than ever.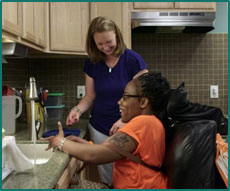 Many people are surprised to learn that Inglis serves twice as many people in the community as we do at Inglis House. Our Community Support Services continue to grow and thrive. The Inglis Day Program is expanding and has increased its capacity to serve 40 people. This program provides adults with disabilities living in the community with enriching recreational and educational programs, as well as social services. In addition to providing an enjoyable, family-like environment for participants, the program enables their loved ones to work or pursue other activities with peace of mind. Participants, who range in age from 18 to 102 years, have given the program a perfect 100 in consumer satisfaction surveys over three of the last four quarters!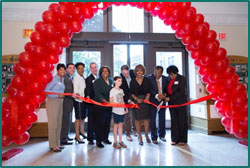 Speaking of perfect scores, our Inglis Housing community also scored a perfect 100 – as well as a 97 and a 94 - in recent HUD REAC surveys. These assessments are very rigorous, and a score of 90 is nearly unheard of. Congratulations to the entire team, residents and staff alike! As finishing touches are being applied to Mission Green, our new housing complex in the Fox Chase section of Philadelphia, we are preparing to break ground on a very exciting housing development adjacent to Inglis House at 2566 Belmont Avenue. Slated to open in November 2015, Inglis Gardens at Belmont will add 80 apartment units to meet the needs of people with disabilities transitioning from nursing homes, as well as other qualified families. Inglis Gardens at Belmont is designed to our Accessibility Plus specifications. It will be technology-enhanced and have an amazing view overlooking the Bala Golf Club course.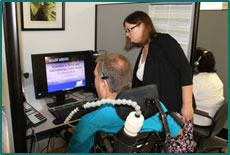 Our Inglis Employment Program added an exciting new component to their program offerings, the Supported Employment Program. Inglis staff works side-by-side with newly employed consumers to help them learn their jobs while assisting their employers to make appropriate adaptations so that the employee and the company partner well together to achieve success. The program's first client recently started at a not-for-profit job where she has an opportunity to help others—with the support and encouragement of one-to-one coaching from our talented staff.
Great things are happening at Inglis House too! In the 3 South neighborhood, residents and staff are reinventing how people live at Inglis. As the pilot for our Person Centered Care initiative, residents and staff are working together to manage the unit's day to day activities in ways that make it feel more like a family and more like their homes. The team is just completing Person First Training to create a more homelike atmosphere and greater spirit of collaboration. During the two-day training sessions, participants learn about Person First Values, the goals of Person Centered Care (PCC), and how PCC began at Inglis. Staff and residents also practice ways to strengthen relationships during these sessions, which will take place in other neighborhoods over the months ahead. The feedback from the participants has been fantastic and recent visitors have mentioned that "the neighborhood somehow feels different, better really."
Despite all of our progress, economic challenges remain. Medicaid cuts totaling 18% over the past 6 years continue to be a big challenge for Inglis. State budget deficits exceeding $1.4B loom over Harrisburg. Inglis continues to educate our legislators about our important work and the devastating impact of continuing reductions in our reimbursement. As a result, our donor's contributions are more important than ever. We are thrilled that donations to Inglis grew significantly over the past year, and appreciate the continuing support of the many, many people who share our mission throughout the region.
The entire Inglis community can take pride in the progress we've made. I am truly honored to work with an outstanding and committed board, talented staff, dedicated volunteers and, most of all, consumers whose resilience and spirit inspire me every day. With your continued help, I am confident that we can continue to accomplish great things and provide an even better quality of life for those we serve.
With all good wishes for renewal and relaxation over your summer vacation.
Sincerely,

Gavin Kerr
President & CEO