About Us
Coronavirus - COVID-19

The health and safety of our residents and staff is of the utmost importance to us, and this site allows us to share regular updates.
COVID-19 continues to impact the Philadelphia region in significant ways. We are following all Federal, State, and Local guidlines regarding recommended safety precautions to reduce the spread of the virus among our residents and staff in Inglis House, for those living in our independent living communities, and for participants in our community-based services.
We continue to actively monitor our residents and staff for signs or symptoms of COVID-19 and are working closely with our local and state health departments.
Since PA Governor Wolf issued the closure orders at the start of the pandemic, we have been in touch with our residents, their families, and our staff on a regular basis - providing updates and information about the impact of COVID-19 on the Inglis Community.
Celebrating Our Front Line Staff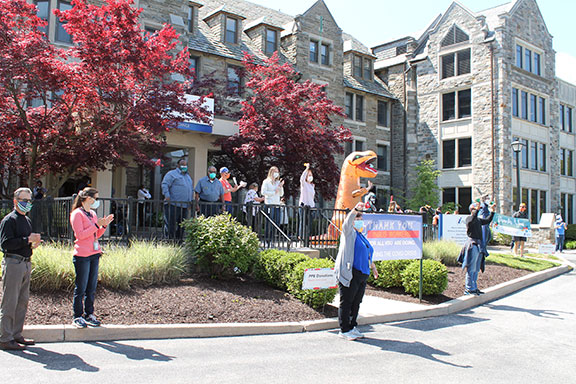 On Thursday, May 7th, ore than 60 Inglis staff who have been working remotely – along with board members, family, friends, and even a Tyranasaurus Rex – gathered together outside Inglis House (at a safe distance), wearing our masks and making a Joyful Noise to celebrate our front line teams as they entered and exited the facility during shift change. Check out the photos and videos. They are our heroes!
COVID-19 - Updates:
At Inglis House, multiple residents have tested positive for COVID-19.
We are tracking both residents and staff members who are recovering from COVID-19
We continue to actively monitor our residents and staff for signs or symptoms of COVID-19 and are working closely with our local and state health departments.
In line with recent City and State orders, until further notice, masks are required to be worn over the mouth and nose by staff at all times while at all Inglis sites.
Staff who have physical contact with COVID-19 positive residents must wear all of the following:

N95 mask; face shield; isolation gown, and gloves

All other staff throughout Inglis House (on all neighborhoods and in common areas) must wear:


Surgical mask, face shield.

Residents are now required to remain in their room (and wear a mask if they must leave for any reason).

We are creating accommodations for those employees providing direct service to stay on campus between shifts (if they choose) so as to reduce staff concerns about the spread of the virus.

Our staff have been provided with increased levels of Personal Protective Equipment at this time, as our supply has increased – thanks in part to the many members of the Inglis Community who have helped with donations. And we thank you.
If you would like to help, please visit www.inglis.org/help for more information Follow this link for more information on how to help with our search for PPE.

Inglis' Day Program - Connections, remains CLOSED until further notice as is the Innovation Center.

Visitation to Inglis Housing Communities should also be limited.
Ways to Help Inglis with PPE:

For families/resident representatives of residents of Inglis House, we are building a listserv list to be able to send out updates via email or text rather than through regular mail. Please follow this link to include your contact information to recieve updated info as soon as we have it.
Additional Links and Information: