December 08, 2019
Ben Laudermilch Joins Inglis as VP & Executive Director, Inglis Housing Corporation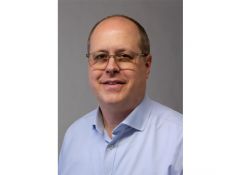 Inglis is pleased to announce Ben Laudermilch has joined Inglis as its new Vice President/Executive Director of Inglis Housing Corporation (IHC). In his new role, Ben will oversee all of Inglis' efforts in developing and managing independent living communities for people with disabilities. Now the largest private developer of this type of housing in the region, Inglis has been creating housing communities since 1974 and today, owns and/or manages nearly 400 units throughout Philadelphia and South Jersey. Inglis' newest housing community, Inglis Methodist Gardens, just received tax credits this year for 47 units providing accessible, healthy and affordable housing for disabled individuals and homeless families. Ben succeeds Kevin Kelly who will retire at the end of the year.
"We are so pleased to welcome Ben as Inglis' new VP & Executive Director of the Inglis Housing Corporation," said Dyann Roth, Inglis president & CEO. "His wealth of experience in the area of housing coupled with his commitment and passion to serve this population, will make him a valued addition to the Inglis team," she said.
Ben served as the Executive Housing Director for the Pennsylvania Department of Human Services overseeing housing initiatives across the Commonwealth. Most recently, Ben was the Housing Director for the Department of Corrections, focusing on developing housing opportunities for reentering Pennsylvanians. He also worked for nearly a decade for the Cumberland County Housing and Redevelopment Authorities in various roles, including Executive Director of both authorities.
"Housing has been the common thread in my work," said Ben. "I found a real connection, in various communities and across the commonwealth, helping to build strategies to increase housing opportunities for underserved populations including people with disabilities. That is what drew me to Inglis – they have a great track record. Their newest project, Inglis Methodist Gardens, includes a $4 million leadership gift by Aetna Better Health of Pennsylvania – that's an indicator they are doing things differently. I look forward to that kind of thinking," he said.
Inglis has brought its Adapted Technology expertise to the Housing Corporation. Inglis has become a thought leader integrating Smart Home technologies in its housing communities, allowing for greater opportunities for independence.
Since 1974 Inglis has been developing housing communities for people with disabilities. Now with 11 housing communities and the 12th approved for tax credits projects, Inglis will have 430 apartment units throughout the area and plans for more. Inglis goes beyond compliance with the Americans with Disabilities Act (ADA) when building accessible apartments by creating what it refers to as "accessibility+" such as wider doorways than ADA requires, sink faucets on the side rather than back for easier reach, etc.
"Inglis has been committed to developing accessible, affordable housing for people with disabilities for more than four decades," said Jim Logue, Chair of Inglis' Board of Directors. "Having Ben join the team will help Inglis build on our strong foundation in affordable housing and strengthen our commitment to this important work," Jim said.
Further connecting the dots, later this month, Inglis will open The Innovation Center on the ground floor of one of its Housing Communities – Inglis Gardens at Belmont (Bldg. B) which will provide a centralized home for all of Inglis' community-based services – allowing people with disabilities throughout Philadelphia to take advantage of additional supports to help them better manage independent living, should they need them.
"I am excited to work with Dyann, the Board and the whole Inglis team to continue their great history in supporting people with disabilities to live as independently as possible – to live how they choose," said Ben.