December 28, 2021
Colorado's first lawmaker to use wheelchair finally gets to wield the gavel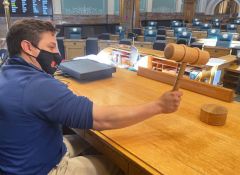 From the story posted on the NPR.org website:
"When Colorado elected Rep. David Ortiz, the state's first lawmaker to use a wheelchair, staff at the 130-year-old capitol building in Denver quickly got to work making changes.
Wooden ramps were added, doorways were widened and Ortiz's desk was modified so that he could get to work unassisted. But for his first session in office, the Democrat still couldn't reach the most prominent place in the House chamber: the speaker's podium.
In 2022, that changes."
Read or listen to the full NPR story about Rep. David Ortiz here. Please note, Inglis shares this content for informational purposes only. All rights to the story belong to NPR.