February 28, 2019
Former Resident of Inglis House Final Wish Comes True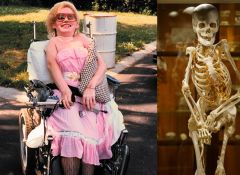 Carol Orzel had one of the rarest diseases in the world, dreamed of her skeleton hanging in the Mütter Museum of the College of Physicians of Philadelphia.
The Philadelphia Inquirer's medical reporter, Marie McCullough, wrote an amazing story about Carol, her wishes, and Fibrodysplasia Ossificans Progressiva (FOP), the rare disease she had causing her body's tissues to ossify (or harden) and turn into bone.
Follow this link to read the article about Carol, FOP and the new exhibit opening at the Mutter Museum today, February 28th, 2019 on Philly.com.
Follow this additional link for a PDF of The Philadelphia Inquirer article.