November 26, 2014
Giving Thanks 2014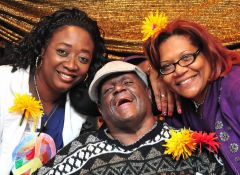 November 2014
Dear Inglis Community:
At Inglis, we believe that Thanksgiving is about more than giving thanks; it's also about becoming aware of life's day-to-day gifts. Here are some of the things we are grateful for this season and all year 'round:
Residents and consumers who redefine ability and independence each and every day.
Our compassionate staff and caregivers everywhere, who empower people with disabilities to live their lives with good health, maximum independence and great dignity.
Dedicated members of the community who volunteer to bring a spirit of fun and joy to Inglis daily.
Our deeply committed Board of Directors whose wisdom, support and commitment encourage us to push our limits and always be our best.
And last, but not least, we are grateful for the generous donors whose support enables us to offer social and educational programs that give meaning to people's lives and provide them with the fundamental joys of learning and creating.
May all the good things in life—family, friends, laughter and sharing—be yours in abundance, this Thanksgiving and throughout the holiday season.
Sincerely,
The Executive Team