July 14, 2017
Magnet for Training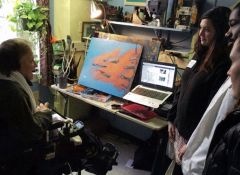 Inglis looks to the future for people with disabilities by working with every college and university health program in the area, providing internships and hands-on training for the next generation of doctors, nurses, social workers, therapists and more – ensuring that people with disabilities will be cared for by clinicians and care providers who understand and have experience in the unique needs of our population.
Drexel School of Medicine has been bringing first-year med students to Inglis every year since 1998. The students learn about people with physical disabilities and, more importantly, learn FROM them!
The School of Medicine's Pulse Magazine ran a front page story about the long-standing relationship and its impact on the medical students. Follow the link to read the article (link opens a new window to read the PDF). When the issue appears online, we will update this page.