July 10, 2015
Support Accessible Taxis in Philadelphia
Disability in the News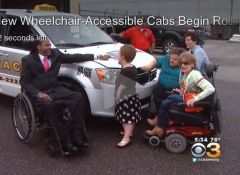 As we approach the 25th Anniversary of the Americans with Disability Act several efforts are making thier way through the systems to increase and enhance access to wheelchair-accessible vehicles (WAV) taxicabs in Philadelphia. And you can help!
Taxis for All Philadelphia (link opens in a new window), is working hard to make sure a proposed regulation by the PPA will be approved. The new regulation the PPA proposed would require all vehicles proposed for taxicab service in the city after a designated date to be wheelchair accessible.
Transportation is essential to the quality of life and independence of people with disabilities, and accessible taxis will make it easier for people with disabilities to live, work, visit, play and travel safely in and around Philadelphia. If approved, Philadelphia would become the first city in America with a fully integrated and accessible taxicab system.
Those who are in favor of this initiative are encouraged to show their support by sharing a brief comment with the reviewing regulatory authorities through the following link: http://www.taxisforallphiladelphia.org (link opens in new window). Comments must be received by this Monday, July 13.
In other news the Philadelphia Parking Authority (PPA) issued 50 new WAV taxi medalions this spring. And recently, the first of the new cabs hit the road. See the story from CBS Chanel 3 News. (Link opens in a new window)