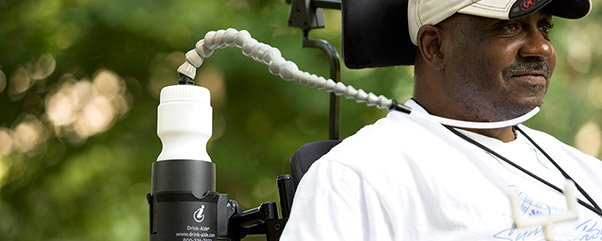 Drink-Aide®
Drink-Aide® is a patented, hands-free water bottle designed by Inglis residents and staff. It attaches easily to a wheelchair and permits the user to drink independently. Promoting independence in drinking water, Drink-Aide® features a patented, articulating, vibration-resistant tube that enables individuals with limited-to-no upper body movement to manage their own hydration. The bottle attaches easily to a wheelchair, walkers, bedrails, etc. with the included holder and universal clamp.
Drinking adequate amounts of water helps us all to stay healthy — and is particularly important when you have a physical disability. Proper hydration plays an important role in reducing the risk of urinary tract infections and skin breakdown. Also important is the sense of independence you achieve by doing things for yourself, and not having to rely on others as much. More than 9,200 customers now drink fluids hands-free from their patented Drink-Aide®.
Designed by people with physical disabilities! If you use a wheelchair and have little or no upper body movement, Drink-Aide® will enable you to drink water independently!
Independent water intake, which is essential to many normal body functions (e.g., good urine output and clarity, skin integrity)
Decreased potential for urinary tract infection due to inadequate hydration
Reduced potential costs of hospitalization due to inadequate hydration
Improved quality of life for users
Drink-Aide® consists of a water bottle, a vibration-resistant, flexible drinking tube and a universal clamp which fastens the water bottle to a wheelchair, bed or any other convenient location. This hands-free innovation is a wellness product that allows a person with a disability to drink independently — in the middle of the night, outdoors or on the go.
Drink-Aide® was designed, tested and produced by people with physical disabilities at Inglis in Philadelphia, PA. Perhaps the greatest benefit of Drink-Aide® is the newfound freedom it gives users. It enables a person with a disability to travel beyond a room or a building, and the freedom to socialize outside, especially during the summer.