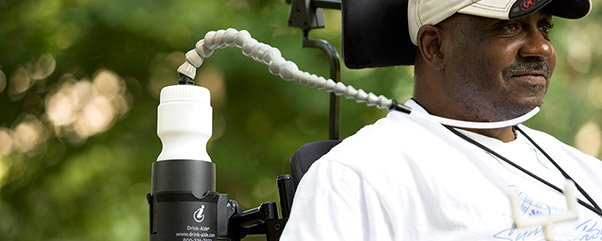 Drink-Aide®
Thank you to all our valued Inglis Drink-Aide® customers!
In 1990, while working with Inglis residents, Occupational Therapist Linda Roseman Miron invented Drink-Aide using clear tubing, a water bottle, splinting material, velcro and, of course, duct tape! A simple U-bolt and some hardware attached the new-fangled contraption to the wheelchair and Drink-Aide® was born.
After nearly 30 years of producing Drink-Aide®, our hands-free water bottle, we have made the difficult decision to close and focus our energy on expanding our community services for individuals with disabilities.
We thank you all for being our customers and are proud of our product and the impact we have had within the disability community.
Key information you need to have:
Final Orders will be accepted until 3pm EST, Friday, August 17th, 2018
Final Closing Date is 3pm EST, Friday, September 30th, 2018
Warranty End Date – 3pm EST, Friday, October 19th, 2018
No Returns accepted AFTER Friday, September 30th, 2018
Drink-Aide® Email: drinkaide@inglis.org
Drink-Aide® Phone: 800-336-7022

If you would like to place a large bulk order, please contact us at 800.336.7022 or by email at drinkaide@inglis.org so we can determine the timing and our ability to fulfill your order.
Sincerely,
The Drink-Aide® Team
Designed by people with physical disabilities! If you use a wheelchair and have little or no upper body movement, Drink-Aide® will enable you to drink water independently!
Independent water intake, which is essential to many normal body functions (e.g., good urine output and clarity, skin integrity)
Decreased potential for urinary tract infection due to inadequate hydration
Reduced potential costs of hospitalization due to inadequate hydration
Improved quality of life for users
Drink-Aide® consists of a water bottle, a vibration-resistant, flexible drinking tube and a universal clamp which fastens the water bottle to a wheelchair, bed or any other convenient location. This hands-free innovation is a wellness product that allows a person with a disability to drink independently — in the middle of the night, outdoors or on the go.