Inglis House
MS Center of Excellence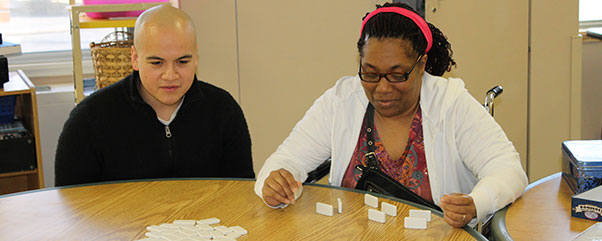 Inglis has developed substantial institutional experience in treating individuals with MS. The MS Society recognized this commitment when it named Inglis as a National Center of Excellence for the Care of People with Multiple Sclerosis.
MS is one of the leading diagnoses in Inglis' community based programs and the MS Society has provided extensive training support to staff in these programs, focusing particularly on the Inglis Care Management program (ICM), which provides supportive services for people with MS living in the community through a contract with the MS Society.
In FY2010, the Society sponsored two ICM case managers for a conference in Texas on community-based care management for clients with MS.
In the recently completed FY2011, the Society provided scholarships so all ICM case managers could earn certification in community-based care management and service coordination for individuals with MS living outside of traditional nursing home settings. Also in FY 2011, two MS certified Inglis therapists — including Nicole Pruitt, current Director of the Adult Day Program who will be heading up the Evening Program — presented at the International Meeting of the MS Consortium in Montreal, Canada. In a recent expansion of services to people with MS, ICM case managers secured a contract with the MS Clinic of Thomas Jefferson University Hospital, where they are currently providing care management services two days per week.
The community based programs can also draw on the expertise of their Inglis House colleagues. Several Inglis staff members, including two members of the nursing department staff and members of the Inglis Rehabilitation Departments, received MSCS certifications. Inglis House staff member Janet Turner is working with Brittany Haugen of the MS Society to create ongoing programming for families of residents with MS, with the first session in May 2012.