October 30, 2013
Dancing Wheelchair
Disability in the News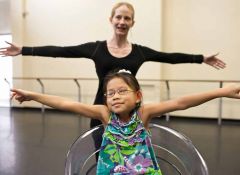 Here is a wonderful story from The Tampa Bay Times. Follow the link to read the full story and see the video on The Tampa Bay Times website.
TAMPA — From the mind of a dancer comes a new kind of wheelchair. The kids released their wheelchairs and leg braces, the sticks that help them see and the iPads that help them speak, and piled them in a corner. They went to Merry Lynn Morris, with her twisting blond hair and legs like a ballerina in a jewelry box. She helped them stretch and rubbed their bellies.
"Reach your arms all the way up," she said. "Look to the sky, and say thank you!"