March 29, 2017
FDA Approves First Drug to Treat Severe Multiple Sclerosis
Disability in the News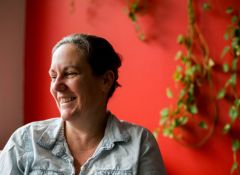 The New York Times is reporting that on Tuesday, March 28th 2017, the US Food and Drug Administration (FDA) approved the first drug that will treat a severe form of Multiple Sclerosis. [PDF will open in a new window]
As a long-time partner with the National MS Society, Inglis is proud to be one of a very few organizations across the country deemed a National Center of Excellence in Long-Term MS Care by the Society.
Multiple Scleoris the primary diagnosis for a majority of those we serve in the Inglis Community.
Here is the link to the article on The New York Times website.
This artcile and photograph appeard in the March 28, 2017 issue of The New York Times. WE only provide a link and PDF here so further share their story. All rights solely owned by The New York Times. The photograph above, taken by Sam Hodgson for The New York Times, shows Jerrie Gullick, who was part of the clinical trial for the new medication.