August 01, 2013
Inglis Appoints Lauren DeBruicker Board Chair
Disability in the News
Inglis Announces the Appointment of Lauren DeBruicker, Esq. as Chair of the Board of Directors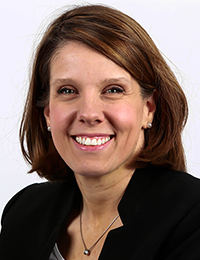 Philadelphia, PA (August 1, 2013) – The Inglis Board of Directors has elected LAUREN DEBRUICKER, ESQ. of Philadelphia, to be the new Chair of the Board. DeBruicker joined the board in 2010, was elected to Vice Chair in 2012 and has served on the Strategic Resources Committee and the Committee on the Board.
"We are very excited to have Lauren as our new Board Chair," said Inglis President & CEO, Gavin Kerr. "She has been a vital part of our board and represents the next generation of leadership – with the vision and commitment to truly make a difference in the lives of those we serve."
An attorney with Duane Morris LLP, Philadelphia, DeBruicker specializes in commercial and insurance coverage litigation with an emphasis on matters involving intellectual property. She joined the firm in 1998 and became a partner in 2007.
A staunch advocate for those with physical disabilities, DeBruicker also serves on the boards of HelpHOPELive, which supports those who have survived organ transplants and catastrophic injuries, as well as the Philadelphia Chapter of the Buoniconti Fund, the national fundraising arm for the Miami Project to Cure Paralysis.
"Inglis has the credibility and strength of a 136-year old historical organization, and the mindset and energy of a start-up," DeBruicker said. "It's an amazing combination, and a very special time to be a part of Inglis. My hope is to help turn Inglis into an even greater resource - not just for the 1,000 people we serve every day, but for people with physical disabilities and their families across the Delaware Valley," said DeBruicker.
DeBruicker is a former member of the National Leadership Council of the Christopher and Dana Reeve Foundation, the President's Council of Magee Rehabilitation Hospital, and the National Board of Advisors of The Baldwin School. She is the recipient of Magee's 2013 Champion in the Community award, and was named by her peers as one of Pennsylvania's Rising Stars in business litigation in Philadelphia Magazine. DeBruicker is also the first Board Chair in Inglis' 136-year history who is a wheelchair user.
She grew up in the Philadelphia suburbs and attended The Baldwin School. She is a graduate of the University of Pennsylvania Law School and Stanford University.
DeBruicker serves with fellow board members Vice Chair, Won Shin (Senior Manager, Ernst & Young); Secretary, Theodore Robb (Robb Associates); Treasurer, Thomas M. Sibson, CPA (CFO, Bayada Nurses, Inc.); John K. Dugan (Partner, Health Industries Advisory Practice-Price Waterhouse Coopers); Alysse Einbender (Principal Landscape Architect, Zion Breen Richardson Associates); JoAnne T. Fredericks, CFA (Senior Vice President, Pennsylvania Trust Company); William J. Koons (Director of Development, Presbyterian Senior Living); James G. Logue, Esq. (Shareholder, McCausland Keen Buckman); Timothy J. Mahoney, III (Founder & President, Mahoney Realty Group, Inc.); Marisa A. Rogers, MPH, MD (Health Care Consultant); Jim Seaman (Vice President, Internal Audit and Management Consulting Services, Drexel University); Sankey V. Williams, MD (Sol Katz Professor of Medicine, University of Pennsylvania Medical School, Chief, Division of General Internal Medicine University of Pennsylvania Health System, retired); and Jacqueline Zinn, PhD (Professor, Risk, Insurance & Health Management, Fox School of Business and Management, Temple University).

Founded in 1877, INGLIS enables people with disabilities, and those who care for them, to achieve their goals and live life to the fullest. Inglis serves nearly 1,000 people daily throughout the Delaware Valley supporting independent, community living, by offering accessible, safe and affordable housing, innovative day programming, adaptive technology and employment services. In addition, Inglis provides long-term, residential living for 297 adults with significant physical disabilities and complex health care needs.