May 23, 2017
Inglis Drink-Aide Water Bottle in Apple Video
Disability in the News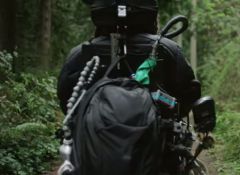 Inglis staff and residents together helped to design, develop and patent the hands-free water bottle now known as Drink-Aide®. The drinking bottle which attaches to a variety of wheelchairs is now sold both nationally and internationally.
Recently, Apple Computer launched a short video highlighting the accessibility features of the iPhone. The subject of the ad, a wheelchair user from the Pacific Northwest, loves nature and birdwatching.
As you see him exploring and playing bird calls, you can clearly see his Drink-Aide® water bottle and straw on his wheelchair.
To learn more about Drink-Aide® - please follow this link to their section of the website where you may also order one of our water bottles.