December 29, 2020
Inglis Methodist Gardens On Schedule to Open Fall 2021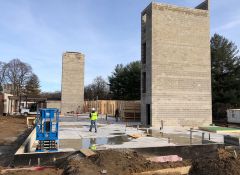 Inglis Methodist Gardens, our newest housing community, is becoming a reality as construction crews safely work throughout this pandemic and help make independent living a reality for many people.
Inglis Methodist Gardens - a partnership between Inglis Housing Corporation and Methodist Services, will be a first-of-its-kind community in Philadelphia, bringing together affordable housing providers, healthcare organizations and social service agencies to form the Philadelphia Housing as Health Collaborative. Once completed, Inglis Methodist Gardens will connect formerly homeless families and individuals with disabilities to 47 affordable, integrated and supportive apartments.
Follow this linkg for more information about Inglis Methodist Gardens, please see its page on this website.