March 08, 2023
Judy Heumann - Mother of Disability Rights Movement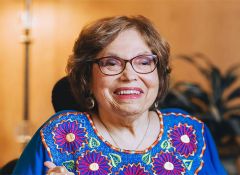 Judy Heumann 1948-2023
"Mother of the Disability Rights Movement"
Legend. Activist. Author. Leader. Icon. Judith "Judy" Heumann, often referred to as the "mother of the disability rights movement," passed away March 4th. A titan in the world of disability rights and advocacy, Judy has played a role in almost every major moment of the disability rights movement, including the creation of landmark legislation including the Rehabilitation Act. (1973), the Individuals with Disabilities Education Act (1975), and the Americans with Disabilities Act (1990).
Her story was also featured in the 2020 award-winning and Oscar-nominated Netflix documentary "Crip Camp: A Disability Revolution," which captured the groundbreaking start of the disability rights movement and its early leaders.
We celebrate her life and accomplishments, and mourn her passing. There have been many artciles sharing more information about Judy's remarkable work and her life. All links open in a new window.