May 17, 2016
NY Times Article on Accessible Independent Living
Disability in the News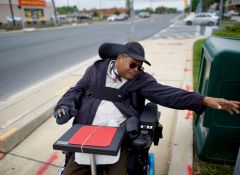 In the Friday, May 13, 2016 issue of The New York Times, reporters Katie Thomas, Sheri Fink and Mitch Smith wrote about the many people with disabilities living in tradtional long-term care facilities or nursing homes who have finally been able to move to independent living. (Link will open in a new window)
The article does a wonderful job of describing the lack of affordable, accessible housing and the financial impact to state and federal dollars.
This article and its contents are owned solely by The New York Times and we merely provide a link to share information for the Inglis community who care deeply about the ability and independence of people with disabilities.
The photograph shown here was taken by and is owned by Mark Makela for The New York Times.