June 21, 2016
Paralympian Mugged in Rio in Advance of Olympics
Disability in the News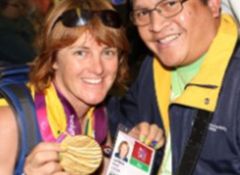 This story comes from CNN.com and we are linking to it to share the news. The content and article are solely owned by CNN. The link will open in a new window.
"Six-time Australian Paralympics athlete 47-year-old Liesl Tesch had her bike stolen at a bus stop near her hotel on Sunday morning by two men, who threatened her and sailing team member Sarah Ross with a pistol," said the CNN article.
Autralian authorities are demanding better security as the Olympic games approach.
The photograph shows Liesl Tesch during the 2012 Olympics in London.