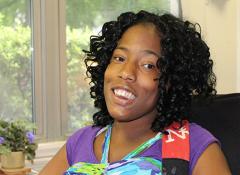 Janiva Wilkins
On the road to independence.
Janiva, a participant in the Inglis Day Program, is like any other young adult: constantly out and about and on the go. Thankfully, she is confident in using public transportation to get from place to place. "My family worries about me, but using the bus isn't a problem for me," she says.
It's hard for people not to worry when they see Janiva rolling down the street in her power wheelchair. Even her neighbors of 10 years still do when they see her out. "I had to reassure them that she's okay," said Janiva's mom, Jackie.
"I want to do stuff on my own," Janiva confirms.
Jackie's pleased to hear that. She knows that she won't be around forever. Independence isn't a luxury for Janiva, it's a necessity.
"Our goal is that Janiva become totally independent," Jackie says.
It's a project they've been working on for a long time. "We didn't know that Janiva could get an aid until she was 18," Jackie remembers. "So Janiva did a lot on her own."
Without an aid, an accessible home was essential. It's allowed Janiva to do a lot that others with her condition – cerebral palsy – can't. "She cooks at home," Jackie reports. "She's doing great."
Yet like every member of the Inglis Community, her disability is just a part of Janiva. It doesn't define her. In fact, Janiva's typical of just about every other young woman her age.
Her favorite place to go? Franklin Mills Mall to shop for clothing, jewelry and other "girly stuff," as Janiva puts it. (She's a real "fashionista" according to Jackie.)
Like her peers, computers are an essential part of life. (Jackie's sure that she spends way too much time on Facebook.) Janiva loves playing computer games. She's a wizard on her smart phone.
Although she's the middle child, she's the only one living at home from a family of four siblings. When family's around, it's special. ("Janiva loves the attention," Jackie reports.)
"I used to give my niece rides in my chair, but she's too big for that, now," Janiva confesses. Yet for as much as she's growing in independence, Inglis fills an important part of her days. It's where she can connect with others outside the isolation of her home and has access to better technology. That's important for someone who likes to keep active.
"I'm getting to where I don't need my mom or my aid as much," Janiva says with pride in her progress. That's hard for any mother to hear, but it's also music to Jackie's ears. Still, it's tough to resist the temptation to dote on her. "It's tough love – on me and her," Jackie says with a smile.
With the variety of activities, Inglis has been a good fit for Janiva. "We did our research," says Jackie. "Inglis was close and offered services that Janiva liked. There's no other place like it."