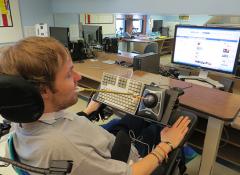 Jesse Picard
"Access to technology is empowerment."
Jesse had just graduated from college when he sustained a spinal cord injury that changed his life instantaneously. At 23-yeard old he became completely paralyzed from the neck down and relies on a ventilator to breathe. Frustrated by the difficulties of accessing the technology that he once used routinely, he almost gave up on himself.
That is, until he met the team from the Adapted Technology Program at Inglis. They understood his frustration and knew how to help him use technology again. The team's extensive knowledge in adapted technology devices, and the seemingly endless ways they can be used, helped Jesse see his potential.
He embraced the team's training classes and now — armed with a mouth stick, DataLux keyboard and Kensington Expert mouse — Jesse is back to the business of daily life. He uses his computer daily to connect with his friends and family and — the next step for every college grad — is thinking about possibilities for his future now that he has independent access to technology.
Jesse's story is one of many made possible by the Adapted Technology Program at Inglis. With a little creativity, adapted technology can be completely tailored to each individual's needs to provide access to social networks, information, education, artistic expression, and the independent management of personal and medical information.
It's all about how we adapt. And with a bit of help from his friends at Inglis, Jesse was able to do just that.