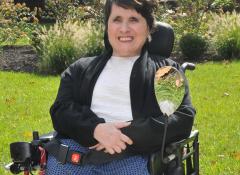 Mary Anne Gaul
"At Inglis, I am in control of my independence."
Mary Anne Gaul grew up as the youngest of seven in a busy home in Northeast Philadelphia. Born with spina bifida, she walked with crutches until she was seven years old.
She remembers that year well — she was honored by the March of Dimes and participated in a parade attended by then-Mayor Frank Rizzo. "My brothers and I were laughing about this the other night, remembering my little French Canadian grandmother ducking under the crowds to make her way up to shake the Mayor's hand."
Living with her parents, Mary Anne stayed active by joining spiritual groups, volunteering and studying piano. Eventually, she and her parents knew that moving to Inglis House meant living with people her own age in an environment that supported her desire to live as independently as possible. She made the move to Inglis in 2006.
"At Inglis, I am in control of my independence," says Mary Anne. "I can take part in the programs that help me live life the way I want. They provide the backdrop for a life filled with rich and fulfilling experiences."
And this certainly describes Mary Anne's life accurately. She goes on Inglis-sponsored day trips, plays piano, studies sign language and takes yoga to maintain her mobility. Plus, she spends lots of time with her friends and family.
One day, she hopes to travel to Canada to immerse herself in her mother's French Canadian heritage.