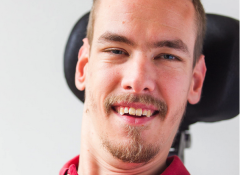 Tom Nordeman
Tom has independence and purpose at Inglis.
"Checkmate!"
Tom, a young man living with cerebral palsy, has made some smart moves in his life. Working toward a degree – check! Being a positive influence on his younger sister, Kristin – check! Staying socially active through his passion for chess and his faith – check!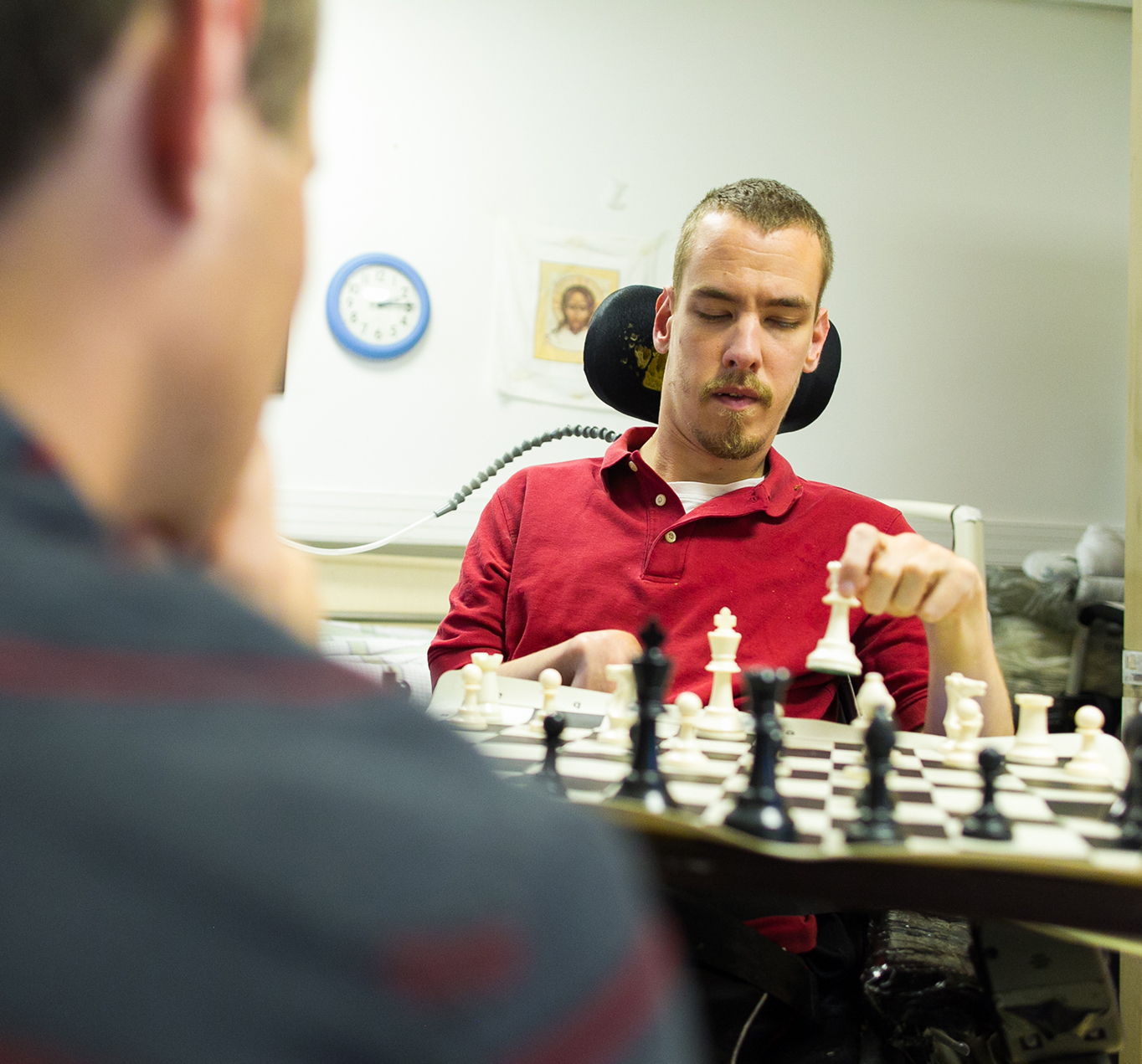 And who can forget the moment he took his first steps in over 15 years? Certainly not Tom or his family. Tom has always been someone who knows his goals and uses his perseverance to achieve them.
Ten years ago, Tom's goal was to live more independently, and to him that meant making the decision to move from his parent's home to Inglis.
Today, Tom's perseverance means working for months with Inglis' physical therapists and our specialized therapeutic equipment to get to a very special moment – taking his first steps since he was a teenager. That moment — captured on his sister's phone so that his whole family could see this milestone — made Tom exclaim, "I feel like the Energizer Bunny!"
Click below and see how your gifts to The Ability Fund bring smiles to the amazing people at Inglis.
Read Kristin Nordeman's poignant remarks about her brother Tom, and what this accomplishment means to him and his family.
I remember holding onto my brother's walker when I was little and walking next to him. Then, all of that stopped. That is, until a few months ago, when Tommy called and told us there was a new type of walking device at Inglis House that supported his weight and could help him walk again.
Tommy is my older brother, so I have no idea of what life would be like without him. Tommy had more than his fair share of difficulties growing up, and because we are family, we all shared in those difficulties. We centered our lives around Tom without any hesitation, because we loved him…no questions asked. On Christmas morning we all came downstairs at the same time, meaning that my siblings and I walked down the steps very slowly so as not to outrun Tommy's stair lift. When Tom was in the hospital, that's where we went after school instead of going outside to play. That's just how it was.
Imagine how our world was shaken when Tommy decided to move out at age 20. We assumed that surely, no one could take care of him as well as we had. We were so afraid to let him go, but Tom, who should have been the frightened one, stuck to his guns, took a leap of faith and moved out. I spent a week feeling sick and wondering if my brother was being taken care of, until he finally got settled and my dad brought me to see him. I walked into Inglis House, looked at my brother's face, and saw a happiness and joy that I'll never forget. Not only was Tom in a place where he didn't have to feel uncomfortable, worry if his next move would be handicap-accessible or endure people staring at him, but he found an independence there that the world told him he would never have.
Through Tom's independence, our family also gained independence and peace of mind. Inglis House gave us hope for Tom and his future, and helped us understand that Tom can do anything that anyone else can do…even walk.
Watching my brother walk in a walker again was incredible. I asked Tom to stand next to me and have his picture taken with me. We all take for granted walking with others and being able to stand next to someone, and I got to do that with him again.
Most memorable quotes come from great people like Martin Luther King Jr. or Abraham Lincoln. But my favorite quote comes from Tom, on the first day I saw him walk again. He said, "I'm gonna bust right through that wall!!"
Inglis has given my brother such wonderful opportunities. I am so grateful for their support and for the support that you have all shown by supporting Inglis.
Thank you.
Kristen Nordeman