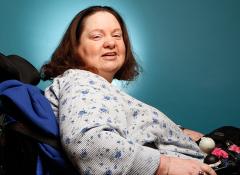 Shelley Van Scoyoc
"I was once again married to my husband instead of my caregiver."

Back in 1992, Shelley was walking on the beach in Cape May when her friend noticed her limping. "Funny," Shelley remarked at the time, "I don't remember hurting myself."
As a medical social worker, Shelley had seen the worst of the worst. Her cases were the toughest the hospitals in Central Pennsylvania had to offer: the emergency room, critical care unit and intensive care. Shelley has an aptitude for relating to people, especially when they're facing difficult challenges. But she never counted on having the tables turned — to be the one needing care.
That limp at the shore didn't get any better. In fact, it worsened. Shelley was diagnosed with multiple sclerosis. Her fine motor skills began to fail, and soon enough, her sight. Work became impossible.
Then Shelley's husband David, a "computer whiz," took a job in suburban Philadelphia. Shelley and their cat soon made the move to the Norristown suburb of Jeffersonville. But there was a major problem — Shelley was a prisoner in her own home. Her condition, combined with the configuration of the apartment, meant that except for the occasional doctor's appointment, she couldn't get out the door.
Shelley and David persevered, but it wasn't the kind of life that either of them wanted for each other. It was clear that despite David's best efforts, Shelley needed more. "My ever-loving and devoted husband could no longer find adequate care for my extensive needs. I required total care. Community services could not stretch enough to cover my many needs and allow me to stay at home," Shelley remembers.
Then David found Inglis House. "He only wanted the best for me," says Shelley.
For Shelley and David, Inglis House has been a Godsend. "Best of all, is that I was once again married to my husband instead of my caregiver."
Shelley wants to be as active as possible. "There's nothing like this near my family's home in Johnstown," she says. "All the homes there are just for older people. Inglis House is nothing like a traditional nursing home. The people are nice. There are activities, both indoors and out. We all have private rooms and can continue to have our private lives." That includes David's regular visits and their getting out.
Shelley quickly started to get involved in Inglis activities. "I go to three or four groups each day, plus socials and dances." Shelley, who was always a writer, began in earnest when her condition kept her inside all of the time, "to keep my brain active," she says. "I especially like the Women's Issues group. I love groups where I'm thinking."
But one group stymied her, at least until she figured out the connection to her life. "I never thought I was an artist, but now I know that I am. I paint with words!"
Shelley writes throughout the day. David picks up the notebooks and transcribes them — from humor to short stories, there's always something on her mind, waiting to spill out.
"I've already learned so much, and taken back control of my life. I'm involved, and no matter what, I'm still a social worker. Yes, I do have times when I cry, but that's okay. I've met so many wonderful people. My goal here? To get people to laugh with me! I came into Inglis House and was given the breath of life!"