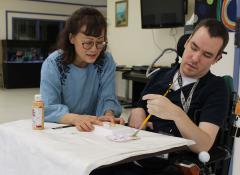 Meet Jae Lee, Certified Therapeutic Recreation Specialist
When Jae Young Lee walked into Inglis as a Temple University recreation therapy student, she had an immediate gut feeling: "This is where I want to work." After taking a job with another organization, she learned of an opening at Inglis and applied before it was even advertised. "I chose to come here," says Jae. "And although there were other candidates for the job, they picked me." It must have been a great fit…Jae has now been with Inglis for 31 years.
What has kept her here all this time? Primarily, it's her bond with the residents. "I can joke with them and talk about anything. It's a two-way give-and-take and we challenge each other," says Jae. Also, her responsibilities have evolved to keep pace with her interests. When a life skills curriculum was needed to prepare residents to move into their own homes in the community, Jae embraced the challenge. She compiled the information, created the curriculum and taught the program. "Helping the residents achieve their goal of a home of their own has been very fulfilling," she says.

Jae is justifiably proud of the programs that the Therapeutic Recreation and Education staff offers.
"We focus on resident interests, goals and quality of life," she says. "We help them expand their knowledge, skills and interests and include their suggestions, so the programs are always changing."
We recently sat down with Jae Lee to learn things you might not know about Jae:
Favorite quote: "Let us change a life of resentment to one of gratitude." –Won Buddhism Scriptures

Hidden talent: Jae makes an excellent banana bread…also her youthful looks!

Last book she read: Outliers by Malcolm Gladwell

When not at Inglis, Jae loves to: cuddle under a blanket with her daughter and watch movies.

Last movie: Wonder with Julia Roberts

Definition of success: The ability to enjoy your life's work while sustaining yourself financially.

Alternate career: a teacher or guidance counselor.

Something you may not know about Jae: "I'm technologically-challenged."

Guilty pleasure: Cape Cod potato chips
What's on Jae's desk?
The Life Skills text she created for Inglis House residents who want to transition to independent living.
A business card holder inscribed with: "You make a difference" that is her daily reminder of her purpose and calling to be at Inglis.
Won Buddhism Book of Scriptures, these teachings have helped her as a person to stay on the right path and keep her grounded.
A family photo of Jae and her husband with her son and his wife and her daughter that she is proud to display.